LG G6 gets tortured, scratched, burnt, and bent. Shrugs it off
18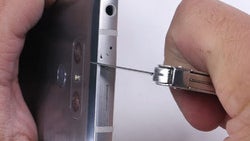 So, the
LG G6
is a beautiful piece of hardware, about to start shipping to early adopters really, really soon. It was the first nearly-bezelless phone to be announced this year, and despite the fact that Sammy's Galaxy S8 may have taken some of the G6's thunder away, it's still a very pretty, very adequate, contemporary handset.
But LG didn't just bet on looks with this one. No, no, the company went above and beyond to ensure two major things. The first is solid performance — LG stuck with
the flagship chipset of yesteryear
, the Qualcomm Snapdragon 821, in order to have more time to work with the SoC, optimizing both the phone's hardware and its software to work in concert with each other. The second is durability — LG swears that it spent tons of hours torturing the G6 and
perfecting its structural integrity
, ensuring that random drops, slams, and squeezes wouldn't destroy the phone.
So, while the jury is out on the first point, but the second has been tested. The retail version of the G6 is already shipping to reviewers worldwide and one JerryRigEverything — a YouTuber that specializes in testing the durability of all new phones — has put the G6 through his standard torture drills. These include scratching the display glass with picks that have different tips, digging through the metal frame to see if it's actually metal or coated in a thick layer of primer (again), testing the camera lens' survivability, and attempting to bend the phone with full force.
How does the G6 fare? Impressively well! We'd say that LG did a great job at building a durable device. This test does not include a drop on concrete, so we still don't know whether the phone would hold up as well as LG claims it would.
source:
JerryRigEverything