LG G3 retail box, Health app, and OIS+ LaserAF camera info leaks out, plus more press shots
44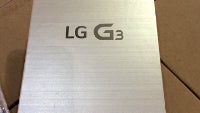 There are only a few bastions of mystery left regarding
today's G3 announcement
, but still more leaked images are coming to shed extra light on the upcoming LG flagship, this time diving deeper in its hardware and software features, as well the retail boxing material.
First off, we were tipped a bunch of higher resolution images from the infamous
premature listing of the G3 on the LG Netherlands website
, which clearly show the existence of a new LG Health app, which includes a pedometer of sorts, as well as a calorie counter. Health apps and biometric measurements are all the rage these days, and LG has obviously decided to keep up with the times. The leaked press material also indicates that the camera technology will be called
OIS+
LaserAF, on account of the laser assist light, and the 13 MP camera will feature a dual LED flash.
On the software front, we already heard about the simplified, flatter interface, and now we are seeing more info about an improved file and app management, as well as about the Smart Notice system, which will apparently compete with Google Now, reminding you that you have arrived in the office and you might be wanting to turn on your Wi-Fi, for instance.
Another image set, coming straight from Korea, is showing the alleged LG G3 boxing material, in its full retail glory, accompanied by a few never-before-seen press shots of the LG G3, rotating the handset from all angles. Take a dive in the slideshow below, and tell us what you think of the eventual new LG Health app.
Recommended Stories