LG G3 QuickCircle vs Galaxy S5 S-View vs One (M8) Dot View cases
29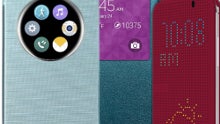 Flagship smartphones cost north of $600 these days, if you buy them outright without subsidies, or they may come for less, but bind you with a two-year carrier contract, so they are not an investment to be taken likely. That's why many of them end up wrapped up in a case immediately after purchase, providing both a piece of mind for the owner, and a protection of their resale value. A lot of cases, however, are not just for simple chassis protection any more, as some of them add extra features, or simplify your interaction with the wrapped-up handset.
Nowhere is that more visible as with the official manufacturer cases that were outed for this season's Android flagships like the
LG G3
,
Samsung Galaxy S5
, and the HTC One (M8). The LG
QuickCircle
case, Samsung's
S-View Cover
, and HTC's
Dot View
each offer a unique approach to caging your phone, while still providing quick access to a lot of common tasks and notifications you need on an everyday basis. That's why we decided to give you a brief overview of the functions that each stock wrapper brings to the table.