LG G3 'Prime' with Snapdragon 805 and LTE-A tipped for a July 25th announcement
21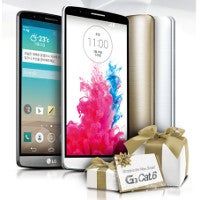 According to South Korean
Naver
, the LG G3 'Prime" is closer than we initially thought, and is due for release in just a few days from now -- on July 25th. The G3 Prime will be a direct competitor to
Samsung's Galaxy S5 LTE-A
, and will, similarly, offer Category 6 LTE-Advanced speeds of up to 225 Mbps.
The report pretty much confirms the specs we were expecting for the special G3 edition, too. The specs remain the same -- a 5.5-inch Quad HD resolution (1440 x 2560) display, 3GB of RAM, a 13-megapixel, optically-stabilized snapper, and a 3000 mAh cell. What's new is the processor -- the G3 Prime should come with a Qualcomm Snapdragon 805 chip, which will allow for those blazing-fast data speeds, and also help with performance. That last part is not to be underestimated, especially when you consider that the G3's screen has millions of pixels more (over traditional, 1080p units) that need to be pushed.
As for availability, we expect the LG G3 to be available for the South Korean market only. That may not be welcome news for all, but do keep in mind that countries with LTE-Advanced networks are extremely rare. In terms of pricing, we'll have to sit and wait.