LG G2 vs Nokia Lumia 1020: first look
36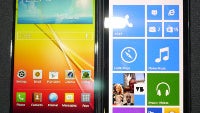 Would you believe that it's been less than a month since the Nokia Lumia 1020 was first introduced to the world? It seemed longer to say the least, but that's the reality of things, as time can quickly go by in an instant – something we're quite aware about with today's most recent entrant into the flagship space. Instead of placing its focus on one particular aspect, the LG G2 seems to really give every single nook and cranny a good look over to make sure that nothing is left out from it being a powerhouse.
We didn't believe it as much when we first feasted our eyes all over the Nokia Lumia 1020, but as we compare the designs between these two flagships, it becomes apparent that the Lumia 1020 is one hefty thing. Taking into consideration that there's an obvious size difference with their screens, it amazes us that the LG G2 nearly matches the Lumia 1020's footprint – and it's the device to pack the larger display too. One is grossly large in comparison to today's pencil thin devices, especially when its camera sensor adds more weight and bulge to an otherwise attractive design. As for the LG G2, it's wonderful that it's thinner and more comfortable to grasp, but it doesn't match the solid construction of its rival.
Forget about it! The Lumia 1020 doesn't even challenge its predecessor with its display, as its 4.5-inch 769 x 1280 PureMotion HD+ with ClearBlack AMOLED panel is not particularly recognized as being a part of the high-end category. In comparison, we get exactly that with the LG G2's immense 5.2-inch 1080p Full HD IPS display, which pops with its crisp visuals, accurate colors, and general sharpness. Perhaps, the saturated color reproduction of the Lumia 1020's display is enough to catch the glint of our eyes in a dark room, but upon closer inspection, we soon realize it's more than a generation behind the competition.
Nokia can only do so much on its end to help improve the Windows Phone 8 experience it's offering, which is especially prevalent with its Nokia branded apps. In the end, though, it can't match the comprehensive, customizable, and encompassing experience found with LG's latest interface.
Another aspect that the two take pride in is the camera department, since they share many common features. Well, we can't forget about the beefy 41-megapixel PureView camera of the Lumia 1020, which is stuffed with an army of cool tech – such as lossless zoom, Zeiss optics, Xenon flash, and much more. Although it has a smaller count 13-mgeapixel auto-focus camera, the LG G2 is also packing some serious gear as well. In fact, it too features an optical image stabilization module that helps to keep shots blurry-free under low lighting. Already, we've seen the Nokia Lumia 1020 rocket straight to the top of the ladder in this category, so it'll be interesting to see how the LG G2 can compare.
Some of us are still scratching our heads over the pricing for the Nokia Lumia 1020, especially when it's at a higher-than-normal price point of $300 on-contract through AT&T. Simply, it's widely regarded as an expensive investment, despite the beefy camera it's packing along. Come to think about it, we'd also be shocked if the LG G2 were to sport the same price out of the gate, but somehow we feel as though the justification would be more warranted – even more when it's actually sporting gear that's more cutting-edge. It'd probably be the right idea to choose the Lumia 1020 if you're solely into photos and videos, but then again, we can't substantiate the capabilities of the LG G2's camera until we get a final production model.