LG G2 vs Apple iPhone 5: first look
11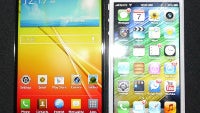 It goes to show how much things can change in one year, which is plainly obvious as we're comparing a flagship device from a year ago, against one that just made its debut today. The iPhone 5 has been tearing the scene up since it debuted last fall, and since then, it has proven itself time after time as being a notorious foe to dethrone. Although there are some obvious advantages for being the newcomer, especially when tech is constantly moving forward at a rapid rate, we're here to check out how these two showstoppers quickly compare against one another.
Let's talk design here first, since that's what strikes most people at first glance. We can't help but state the obvious with this first look, since LG's new flagship doesn't depart from the design aesthetics of LG's portfolio. Unless you have terrible vision, there's a noticeable discrepancy between the sizes of these two – with the iPhone sporting the smaller frame between the two. Still, we can't forget to applaud LG for its efforts in really making a smartphone so comfortable to hold with a monster sized display on there. However, the premium element is still attached to the iPhone 5 with this quick look, even more profoundly when it's still a plastic body for the LG G2.
At this point, the iPhone 5's 640 x 1136 Retina Display is starting to look dated – especially with these new crop of devices. In contrast, the LG G2's 5.2-inch 1080p True HD IPS display handsomely overshadows it rival, but the most impressive part is when we look at its bezels. Nearly edge-to-edge, the LG G2's display maximizes the amount of real estate it has to deal with. Additionally, we can visibly notice that there's more detail and sharpness thanks to its higher pixel density count – albeit, we do notice that the iPhone 5's display is a smidgen brighter. Besides that, considering that they're both employing IPS-LCD panels, they feature very neutral colors and wide viewing angles.
Excitement is still buzzing up for the iPhone 5's impending software update, but for what it is now, iOS is without question being outclassed by the competition – especially from Android devices. As we can see, LG has brought forth some new enhancements to its latest experience on the LG G2, such as Guest Mode, Answer Me, text Link, Slide Aside, and much more. In fact, the G2's experience just sprinkles on some new ways to do all the usual things we do on our smartphones. For all the extensive features that the LG G2 brings to the table, the iPhone 5's iOS experience continues to be simplified and uncomplicated – qualities that people appreciate highly.
Needless to say, we can go into detail dissecting each and every department between these two flagships, but the obvious is right in front of us. Mainly because it's the newer between the two, the LG G2 trumps the iPhone in many aspects regarding the hardware, however, that's not what it takes in the end to actually claim victory. People yearn for smartphones that work in helping them with their everyday lives. So far, the iPhone 5 has proven that to the masses, so it'll be intriguing to see if the LG G2 can follow in the same footsteps – or even surpass it!