LG G2 gets Android 4.4.2 in Korea, along with support for ART
9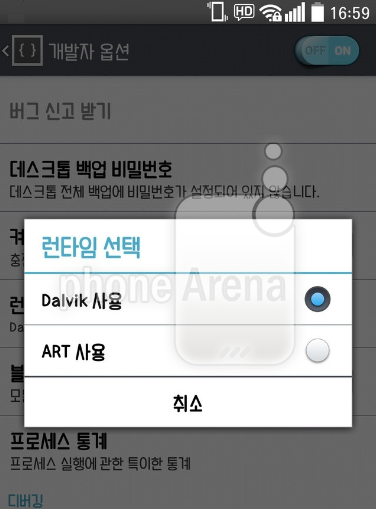 Screenshot from LG G2 Android 4.4.2 update shows support for ART
One of our loyal readers in Korea has sent us a screenshot of an
LG G2
to show us that the phone is being updated to Android 4.4.2 in the country. The update was due at the end of last month and apparently has arrived just a few days late. In addition, the update will support ART, or Android RunTime.
This is the new version of runtime that replaces Dalvik
. The advantage with ART is that the compiler switches from "just-in-time" to "ahead-of-time."
Look at it this way. With Dalvik, when you open an app, the bytecode of the app is not compiled until you open the app. With ART, the bytecode is compiled when you install the app. This way, the app is practically all ready to run before you even open it for the first time. Based on the screenshot, it looks like Korean LG G2 owners will have the option to toggle between Dalvik and ART.
Those of you in the states are probably wondering when KitKat will arrive for your handset. Based on the latest info we have,
KitKat should arrive for the LG G2 in the U.S. before the end of the first quarter
, which ends next month.
Thanks, Anonymous Tipster!