LG G Watch R receives update to add Wi-Fi capabilities
13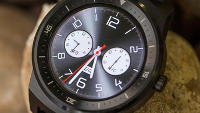 As expected, LG has started to send out updates to the LG G Watch R. The Android Wear powered smartwatch has a round dial, which explains the "R" in the name of the device.
Back in May, LG said that it would update the LG G Watch R
so that the timepiece could have Wi-Fi connectivity. LG has apparently begun the process of disseminating the new files.
One of our loyal readers, who happens to live in Malaysia, sent us photographs of his LG G Watch R after the installation of the update. As you can see from the images, there is now a "Wi-Fi settings" option and a listing of Wi-Fi hotspots available for the timepiece to connect to.
The LG G watch R features a 1.3-inch P-OLED display, with a 320 x 320 resolution. A Snapdragon 400 CPU is inside the watch along with 512MB of RAM, 4GB of internal storage and a 410mAh battery. The timepiece has an IP67 certification, allowing it to be submerged in up to 3.3 feet of water for as long as 30 minutes, without getting damaged.
Because the update is being sent out OTA, your LG G Watch R might not yet have received it. It could take a few days to arrive on your wrist, so be patient and soon your timepiece will have Wi-Fi connectivity.
Thanks for the tip, eOne eRing!