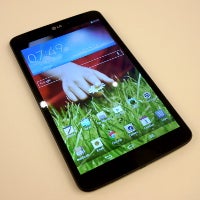 So, there we were, enjoying our sweet time at IFA 2013, and all of a sudden, we realized that it's high time we join LG for some hands-on time with their new tablet - the LG G Pad 8.3. And we've got to tell you, folks, as big as our excitement already was for this device, it literally went through the roof when we first put our hands-on this product. The G Pad 8.3 marks the return of LG to the tablet scene. After the release of the Optimus Pad quite some time ago, LG went MIA as far as tablets go, but now, it looks like the comapny is going for an epic comeback with the G Pad 8.3.
Design
One of the most astonishing aspects of the new LG G Pad 8.3 is its external design. In terms of looks, it's actually quite a looker. The front side is perfectly clean, with just the LG logo shining proudly above the screen, and that's pretty much it. However, once you pick the G Pad 8.3 up, it immediately becomes obvious that you're dealing with a premium product. The rear panel is made of high-quality aluminum the is both sturdy and classy. The profile of the G Pad 8.3 is extremely thin, which boosts its appeal even further.
All in all, LG is going for a minimalistic approach with the exterior of the G Pad 8.3, and the result is a strikingly simple, yet undoubtedly beautiful tablet. The best part about it is that its construction feels very solid and high-end. It's easily the first tablet of this caliber that can actually compete with the Apple iPad mini, as far as looks and build quality go.
Display
But you know what? It gets better. The display of the LG G Pad 8.3 is absolutely amazing! It measures 8.3 inches, so it's a bit bigger than that of the iPad mini, or the Samsung
Galaxy Note 8
.0, but in terms of quality, it completely eclipses those competitors. The resolution is 1080x1920 pixels, so picture clarity is really good - way better than the current generation of the iPad mini, but really, this IPS screen is just amazing – very lively colors, very life-like image quality, and viewing angles are one of the very best we've seen on an IPS display. We can't wait to be able to do some scientific tests with this guy to see what's going to come out, but we'll have to wait a bit for this.
Processor
In terms of hardware, the LG G Pad 8.3 features the Snapdragon 600 processor. LG has considered using the Snapdragon 800, but they figured that the 800 will heat the device too much, and will also drain too much battery. After our hands-on time, we were left with the impression that the Snapdragon 600 will be powerful enough to deliver a snappy and fluid experience, but we'll have to wait until we can test a final, retail unit, in order to make any conclusions.
Interface and Functionality
In terms of software, LG has installed its custom UI over Android
4.2
, and it's a quite playful UI we have to say. Nice colorful icons and fun UI effects are constantly present as you interact with the tablet. It's a bit of a 'kitchensink' approach, because the software has tons of extra features, but we won't complain as long as those don't stand in the way of normal usage.
A new feature for the G Pad 8.3 is the Q Pair application, which easily pairs the G Pad to a compatible smartphone like the G2, in order to sync call and message notifications, browsing history, app screens and more. This one seems to be quite handy, because it removes the need to constantly have your smartphone by your side. For example, with Q Pair enabled, you can just take your tablet and go to another room, leaving your phone behind, and you won't have to worry about any missed calls, messages or stuff like that, because the G Pad 8.3 will play those for you. The Q Pair app will be available in the Play Store, and interestingly, LG says that it's even going to be compatible with non-LG smartphones. However, parts of the functionality of the app will probably not work on some devices, depending on the model. There's no specific information as far as compatibility with Q Pair goes right now, but hopefully LG's going to release a list of supported devices once it starts rolling the software out.
Price, Release Date and Expectations
The pricing scheme for the G Pad 8.3 is pretty much up in the air right now, and so is the release date, but at least LG claims that the tablet should get released soon - sometime in Q4. If the rumors that Apple's going to announce new iPads at its September 10 event turn out to be true, then this means we're going to witness a pretty interesting clash between the G Pad 8.3 and the new iPad mini, which should sport a higher-resolution screen as well.
Overall, we're perfectly pleased by what LG has produced. The G Pad 8.3 is, without a doubt, a terrific tablet with a comfortable form-factor that makes it very comfortable to use. When it comes to the display, the internals and the software experience - we're just as pleased, as the screen is beautiful, the performance seems great, and the UI is fun and feature-rich. What more can we want?