LG G Flex 2 vs Samsung Galaxy Note 4: First look
2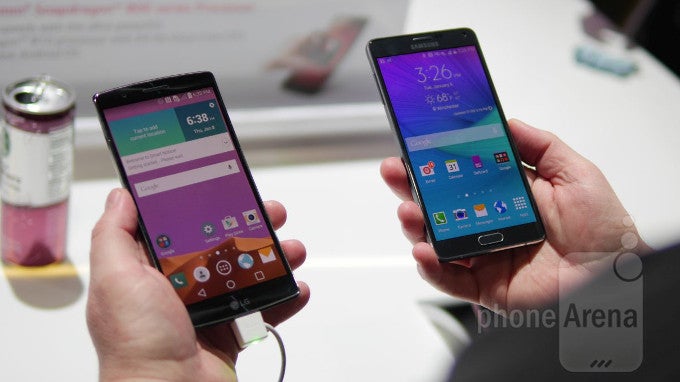 When LG introduced the G Flex with a vertically flexed display a year ago, the industry was rightfully impressed – you don't get to see as polished a concept device very often. Unlike Samsung's Galaxy Round, which was released at essentially the same time, and whose display was horizontally flexed instead, LG's futuristic phone had another "wow" feature up its sleeve – a self-healing rear panel.
With yesterday's announcement of the G Flex 2, LG is making its intentions of keeping the category alive clear. More importantly, however, the Korean company has managed to improve the device in pretty much every important area – it's got a more manageable, but higher-resolution display, uncompromising, top-notch hardware, and an even better self-healing solution.
So how does LG's new flagship compare with the now somewhat matured Galaxy Note 4 – its cross-town arch-rival's own phablet monstrosity? Yeah, we're curious, too, so let's dig in.
Design
While both phablets are quite imposing with their size, the G Flex 2's smaller, LG G3-like bezels and display give it the advantage of a more modest footprint – the Note 4 towers above it in comparison, and it's also wider.
Rigid materials like metal are obviously out of the question when you want to construct a flexible chassis like the one of the G Flex 2, so we're looking at an all-plastic build, whereas the Note 4 sports a metal frame. Regardless, the G Flex 2 still looks very elegant, and it fits our palm even better than the Note 4, thanks to its curved (and self-healing) back, though we obviously still love the cool touch of the Note 4.
In keeping with LG tradition, the G Flex 2 has its power key and volume rocker mounted on its back, while the Note 4 employs a more conventional, buttons-on-the-side layout. This comes down to taste, but even though LG has managed to improve the clickiness and responsiveness of its buttons, we generally still like to have them on the right.
It's tough deciding which one of the two devices appeals to us more – the G Flex 2 is
very
tempting due to its outlandish looks, but the Note 4 is still one mighty solid device, even if it feels conservative in comparison (and, to be honest, what doesn't?).
Display
As touched on already, LG decided to scale back on the display size with the G Flex 2 and put a 5.5-incher instead of the 6-inch glass of its predecessor. On the other hand, the number of available pixels within those inches has increased significantly, as we're now looking at not only a smaller display, but a higher, 1080 x 1920 pixel resolution, good for 403 ppi. That's all and great, but still not comparable to the Note 4's display, which is both larger (5.7-inches) and more pixel dense (1440 x 2560 resolution, 515 ppi).
The underlying technologies with the two screens are also different – LG is using a flexible, P-OLED panel, while Samsung's Note 4 sports a Super AMOLED one. There two devices are also using different cover glasses – a Gorilla Glass 4 for the Note 4 and a custom, chemically-treated Gorilla Glass 3 with the G Flex 2. LG claims that the resulting glass is 20% stronger and also flexible.
Interface
There's no denying it – when it comes to Android customization, no other two major manufacturers offer as much as LG and Samsung. In fact, Samsung is so far ahead in that department that even LG falters in comparison. But is that a good thing? Yes... and no – at the same time.
In the case of Samsung, its devices sometimes feel like they simply have too many features that are half-baked or downright useless. On the other hand, features like Multi Window, Air Commands (courtesy of the S Pen stylus), Smart Stay, and others, have become synonymous with Samsung, and for a good reason – they're well-executed and useful. Some of those, like Multi Window, are also available on the LG G Flex 2 (called Dual Window), and it itself also brings a few unique perks to the table – like customizable software navigation keys. That said, both proprietary interfaces are plenty heavy, and even some of the most powerful hardware is unable to move them along as responsively and quickly as it would some of the lighter solutions.
Indeed, this issue was very visible with the LG G3, whose QHD display added just enough load on the otherwise very decent Snapdragon 801 processor on board to make it feel sluggish. The Note 4, too, isn't perfect, though its more advanced Snapdragon 805 makes for a smoother ride. But compared to the G Flex 2? Well, thanks to its 1080p display and super-powerful processor, the new LG flagship flies through the many menus and applications of the Android 5.0 Lollipop OS it's loaded with.
Processor and memory
Even more so than its very respectable predecessor, the G Flex 2 won't be wanting for power – at all. It's got the very latest, most crazy Qualcomm Snapdragon chipset on board – a 64-bit, octa-core Snapdragon 810, built on a 20nm process, with four / four ARM Cortex-A57 / ARM Cortex-53 cores and an Adreno 430 GPU. If that wasn't enough, LG has also endowed the new G Flex 2 with up to 3GB of RAM (with the 32GB storage model, 2GB with the 16 gig one), which essentially means that this curvy freak of tech is
very
well-positioned as a future-proof device.
In comparison, the Note 4's mighty impressive configuration is, nevertheless, a step behind, owing to its older age. The Snapdragon 810 wasn't available when Samsung released the phablet, but the excellent, Qualcomm Snapdragon 805 was. The processor boasts four Krait 450 that can reach the impressive 2.7GHz clocks if needed, along with an Adreno 420 GPU. Like the G Flex 2, the Note 4 also comes with 3 gigs of RAM. However, it is worth pointing out that, in certain regions, the Note 4 is delivered with one of Samsung's custom-built Exynos 7 Octa chips, which generally performs on par with the SD805 – it excels in one region, but concedes others.
Camera

LG has been pretty consistent with its vision of what the smartphone camera should be about, and the G Flex 2's reiterates that: It
needs
to offer optical image stabilization. Indeed, like all LG flagships from the near past, the Flex 2 has the company's proprietary OIS+ solution attached to its 13-megapixel rear camera – helpful with video recording and when shooting in low light scenarios. The rest – a dual LED flash and a laser auto focus system – all mirror what LG already did with the G3, but the company reiterated over and over that it has carried out a number of improvements on top of it. We'll see.
As for the Samsung Galaxy Note 4, it, too, is packed with some amazing camera tech. We're looking at a higher resolution, 16-megapixel snapper, with phase detection auto focus solution in place and a single LED flash. Those differences aside, the Note 4, too, has an OIS gizmo in place.
Turning the devices around, we're looking at a 2.1-megapixel selfie snapper with the G Flex 2, and a superior (on paper), 3.7-megapixel front-facing camera.
Expectations
LG has put together something really compelling with the G Flex 2 – it is more manageable than its predecessor, has a more pixel-happy screen, and is powered by some of the best pieces of hardware currently available. If that wasn't enough, it's also likely one of the most advanced smartphones on the planet, with its flexible chassis and self-healing back. This
is
the nerd dream.
In comparison, the Note 4 feels almost boring. Yeah, we know – that would normally be a ridiculous statement, were it put next to any other device. That's not a significant weakness, however, as Samsung's phablet is rock solid in pretty much each and every regard, and is sufficiently high-tech for just about anyone on the planet. Yes, it's the more standard, even conservative choice, but that doesn't mean it's at all lacking.
Ultimately, however, it'll also come down to availability and price. We know that LG is prepping to launch the G Flex 2 in South Korea, but the rest of the world – all the places that have the Note 4 readily available and up for grabs – will have to wait, possibly as long as several months, and there are no guarantees that LG can distribute its flexy device to as many locations. On the other hand, if the original G Flex is any indication, US carriers will have it for sale at $299 with a 2-year commitment, while retail prices will likely be north of $600. That's pretty much identical to what the Note 4 goes for right now, so we're, quite frankly, anxious to see if the G Flex 2 can become a serious threat to Note 4 sales.
As always, time, and time alone, will tell.