Kyocera tissue conduction technology demonstration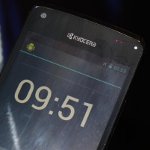 During CTIA 2012, we were introduced to a few new smartphones that are slated to arrive in the near future, but beyond the glitz and allure surrounding today's highly prized devices, we were introduced to one new technology that even managed to surprise us. So what are we talking about? Well, we posted a news article the other day about a
new technology being used by Kyocera
, so naturally, we had to check it out for ourselves at their booth.
On deck at the Kyocera CTIA booth, we came upon one peculiar looking Kyocera smartphone that was distinctively
lacking a typical earpiece
. Specifically, this prototype unit demonstrated Kyocera's
tissue conduction technology
, which essentially replaces a phone's earpiece, and instead relies on a ceramic transducer. At first, it seem like a foreign thing, but after placing the handset up to our face, like we normally would, we're actually able to hear the looping audio file running on the handset.
Considering that there is no earpiece whatsoever, it's strange that we're able to hear it out. However, it's able to shine even more after putting on a pair of headphones. On one hand, we're unable to hear any audio out of a standard handset with an earpiece – since the bulky headphones are covering our ears. Conversely, placing the prototype model against the side of the headphones, we're actually able to listen to the audio. Honestly, it's an intriguing process, but when it comes down to it, vibrations are actually transmitted over to the skull tissue, and straight to the inner ear – essentially stimulating it. No doubt, we're curious to see this new kind technology making it to commercial devices.