Kyocera Echo takes a licking, keeps on ticking
1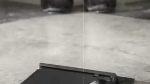 Know that feeling when you drop your cell phone and just before you bend down to pick it up, your mind envisions the worst. With the Kyocera Echo, a cracked screen or damaged innards might not even cross your mind. The handset has obviously been put together with some tough, rugged materials. In the video below, the Kyocera Echo is handled
pretty roughly
and still manages to survive.
Has anyone with butterfingers dropped their phones constantly without the device suffering any serious damage? Today's phones have much better protection starting with the
Gorilla Glass
that is on the Kyocera Echo. The video claims that Kyocera tests each device quite heavily, including opening and closing each unit 100,000 times. We counted
16 pretty severe hits
that the Echo took in this one video alone, any one of which could have put a cell phone out of commission for good.
One final thought. While we did see a Kyocera Echo get pounded, we never did see if the phone remained in working condition after taking the whacks that it did. Any Kyocera Echo owners out there who can verify just
how tough
this smartphone is?
source:
YouTube
via
AndroidCentral
.