KitKat coming to Samsung Galaxy Mega and Samsung Galaxy S4 mini?
12
A leaked document seems to confirm that the Samsung Galaxy Mega models and the
Samsung Galaxy S4 mini
will all be getting updated to Android 4.4 (KitKat). The document shows that the Korean OEM plans on adding Samsung KNOX to the Samsung Galaxy Mega 5.8, the Samsung Galaxy Mega 6.3 and the Samsung Galaxy S4 mini once the trio of handsets is updated to Android 4.4. That is about as much of a confirmation as you are going to see that those models will be updated to Android 4.4.
Samsung KNOX consists of a number of
work related applications placed inside a secure 'container'
that prevents the applications inside from being infected by malware and viruses. The applications include email, a browser, contacts and a calendar to name a few. Tapping on the KNOX icon secures the apps and starts the program. Another tap returns the phone to its normal functionality.
Based on the leaked document, it seems that those with the
Samsung Galaxy S III mini
will not be receiving the consumer version or the enterprise version of KNOX and the phone will most likely never see Android 4.4. As for the other devices on the list, We would expect KitKat to end up on the
Samsung Galaxy Note 3
(which was preloaded with the KNOX software), the
Samsung GALAXY Note II
, the
Samsung Galaxy S4
and the
Samsung Galaxy S III
. The latter three models will receive Samsung KNOX after they are updated to Android 4.3.
Once Samsung KNOX becomes available on a model, the software will come pre-installed on future versions of the device. In China, only the KNOX launcher will come pre-loaded. Opening it up will download the appropriate files. There is also a chance that a carrier bought model will have the feature locked down by the mobile operator.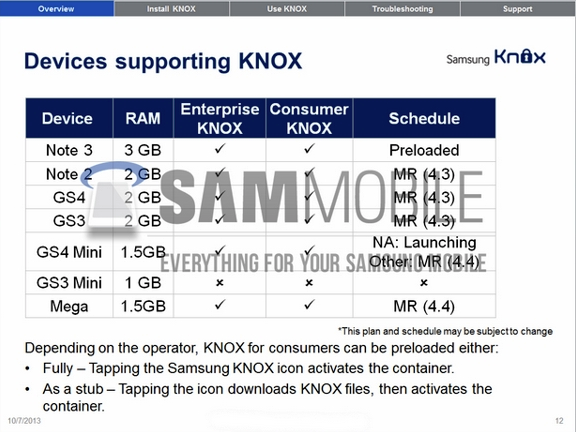 Leaked document shows Android 4.4 is heading to the Samsung Galaxy Mega phones and the Samsung Galaxy S4 mini
source:
SamMobile
via
UnwiredView