Kantar Worldpanel: iOS gains market share in the U.S. during Q2, Android slips slightly
32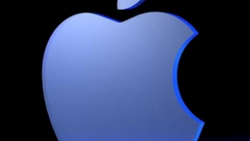 Kantar WorldPanel released its second quarter market share report today, and it showed that in the U.S. iOS rose 1.3 percentage points. That means that the Apple iPhone was responsible for 31.8% of smartphone sales in the country from April through June. Apple had the top selling device in the U.S. during that period as the
Apple iPhone 6s
and
Apple iPhone 6s Plus
combined to snag 15.1% of U.S. smartphone sales. Not far behind was the
Samsung Galaxy S7
and
Samsung Galaxy S7 edge
with a combined 14.1% share. The
Apple iPhone SE
was third with 5.1%. The new 4-inch handset helped iOS rack up the numbers it did during the quarter.
Android's share in the U.S. dropped by less than a percentage points to 66.5%, remaining on top by a comfortable margin. Windows continued its long descent toward oblivion as its share nearly dropped in half from 3% last year to this year's 1.6%.
In the U.S., Samsung remained on top with 35% of the smartphone market. Apple was next with 32%, followed by the 14% slice of the pie owned by LG. Motorola was next with 5%. The figures mean that LG has doubled its position in the U.S. market over the last two years. Motorola has seen its share slump by 50% from the 10% it snagged last quarter. 38% of current Motorola owners plan on switching brands in the next year. While 58% are loyal to the brand, that is well behind the 92% loyalty rate earned by Apple and the 85% owned by Samsung.
In China, iOS lost 1.8pp in the quarter and now has a market share of 17.9%. Android gained 2.1 percentage points to 81.4% While the iPhone 6s and iPhone 6s Plus are on top of the sales charts in the country, the
Huawei Mate 8
,
Huawei P9
,
Xiaomi Redmi Note 3
,
Xiaomi Mi 5
and
Oppo R9
are squeezing Apple's sales. The Apple iPhone SE had only 2.5% of Chinese smartphone sales in the quarter.
That was the opposite of what took place in Great Britain in the second quarter. The iPhone SE had a leading 9.2% share followed by the 9.1% garnered by the iPhone 6s. Overall, in the country iOS rose 3.1pp to 37.2%. Android added 4.1pp to 57.2%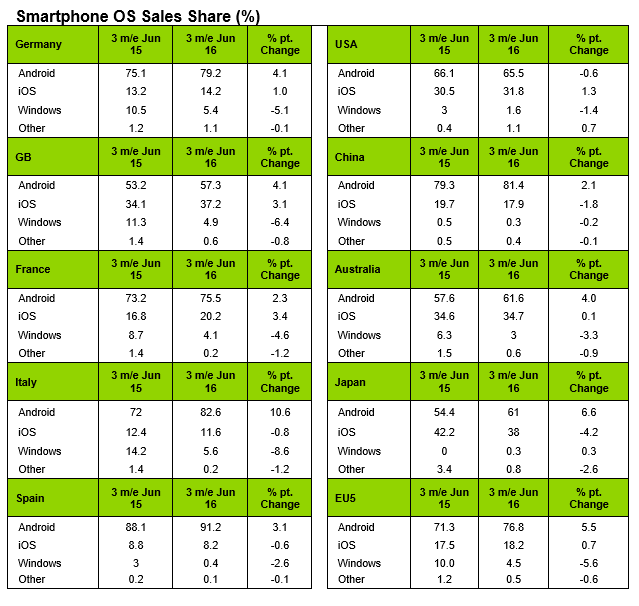 Global second quarter market share figures from Kantar Worldpanel
source: KantarWorldpanel (
1
), (
2
)
Recommended Stories