KGI's Kuo sees in-screen embedded fingerprint scanner debuting on the 2018 Samsung Galaxy Note 9
30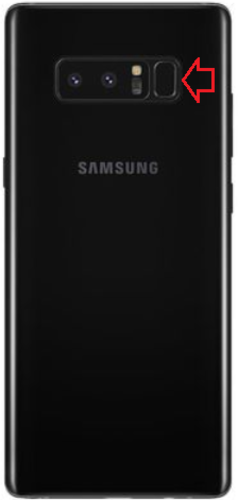 The fingerprint scanner on the rear of the Galaxy Note 8 will be replaced by an embedded reader next year according to Ming-Chi Kuo
It has turned out to be one of the biggest technological difficulties of the year, affecting Samsung, Apple and most likely other less well-known smartphone manufacturers. Finding the solution could lead to a shift in more than several million dollars of handset sales. If you haven't figured out what we are discussing here, it is the placement of a biometric fingerprint scanner embedded under a smartphone display. Such a placement is necessary for manufacturers to offer edge-to-edge "button-less" and "bezel-less" screens without resorting to less popular (read "rear-facing") solutions.
Samsung hoped to gain the early advantage with the
Samsung Galaxy S8
and
Samsung Galaxy S8+
. But the technology just was not doable for 2017
and at the last second, Sammy placed its fingerprint reader on the back of its new models
. The actual deployment of the button, adjacent to the rear-facing camera, proved to be controversial since a Galaxy S8/S8+ user could blindly maneuver his finger looking to match his fingerprint, and end up smudging the camera lens.
But Samsung had another opportunity to embed the fingerprint scanner under the glass of its high-end phablet, the
Samsung Galaxy Note 8
. But this is not happening either. At least we can say that based on leaked renders, Sammy has put the flash unit between the scanner and the dual camera lenses to prevent smudging. It
still is not in a good location
as it forces those with small hands to really stretch for the button. And with Apple apparently using a new highly thought of 3D scanning system (
it's "revolutionary", crowed KGI securities analyst Ming-Chi Kuo
earlier this year) to replace Touch ID on the
Apple iPhone 8
, it appears that the ball is back in Samsung's court. Thanks to Kuo, considered one of the most accurate analysts around to carry a slide rule and pencil, we have an idea which 2018 phone will be first to embed the fingerprint reader.
The KGI analyst says that Samsung has already decided to keep the status-quo on the scanner for the Samsung Galaxy S9 and Samsung Galaxy S9+. As a result, Kuo expects the first in-screen fingerprint reader from Sammy to appear on its 2018 high-end phablet, the Samsung Galaxy Note 9.
Kuo recently sent out a report to his clients in which he claims that next year Samsung will replace biometric supplier Synaptics with Egis. The latter will become the manufacturer's largest fingerprint IC supplier next year. In addition, the analyst states that the Galaxy Note 9 needs new selling points, requiring Samsung to add an optical fingerprint solution. Will Kuo prove just as prescient with Samsung as he is with Apple? Let's agree to check back in a year to find out!
source:
DroidHolic