Judge rejects Apple bid for preliminary Amazon injunction
5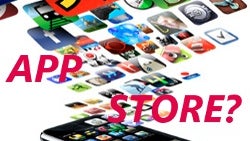 A federal judge
has rejected Apple's request to immediately stop Amazon
from using "Appstore" for its application market. Judge Phyllis Hamilton hadn't found "a likelihood of confusion" with the Amazon Appstore for Android, but she did recognize that the term is not generic, according to a Reuters report.
The case now has a trial date of October 2012, but the judge has reiterated her warning about Apple's lack of evidence that customers actually get confused, a "stumbling block" to Cupertino's efforts to win the lawsuit.
"The court finds that Apple has not established a likelihood of success on its dilution claim. First, Apple has not established that its "App Store" mark is famous, in the sense of being "prominent" and "renowned." The evidence does show that Apple has spent a great deal of money on advertising and publicity, and has sold/provided/furnished a large number of apps from its AppStore, and the evidence also reflects actual recognition of the "App Store" mark. However, there is also evidence that the term "app store" is used by other companies as a descriptive term for a place to obtain software applications for mobile devices,"
the judge said in an 18-page opinion.
Apple representatives weren't immediately available for comments, but an Apple spokeswoman responded earlier by stressing that Amazon's app will
"confuse and mislead customers."
The store was launched in March and currently features nearly 13,000 apps, attracting users with its daily deals discounting paid apps to free, but also offering a test drive feature for some apps and the possibility to sync your apps to the cloud and restore them when switching to a different phone.
After the first lawsuit, Apple has described Amazon's storefront as both "inferior" and a "security threat" as it allowed apps for rooted Android phones to be downloaded, but the online retailer responded with a counter suit claiming that
"App Store" is a generic term
. Check out the whole text of the order at the source link below, but don't hesitate to also look at our dedicated article about
what the Amazon Appstore is
.