Jony Ive expected to be fired by Steve Jobs when Jobs returned to Apple
30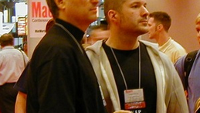 Earlier this month, we told you about a new book that will soon be in book stores titled "
Becoming Steve Jobs
." The book's sub-title, "The Evolution of a Reckless Upstart into a Visionary Leader," reveals the focus of the book on the journey taken by Jobs that eventually ended with
his death from pancreatic cancer
. But it was that journey, starting with the creation of Apple and ending with a series of well-received consumer products, that made Steve Jobs a legend.
The excerpt of the book that was leaked earlier this month told the story of how Tim Cook had offered part of his liver to Jobs, who was then in very poor health. We'll never know if this selfless act by Apple's current CEO would have saved Jobs' life, because the Apple co-founder quickly turned down the offer.
The latest excerpt from the book, which just might hit the New York Times' Best Seller list upon its release on March 24th, is one involving Apple's current SVP of Design, Jony Ive. The story picks up immediately upon Jobs' return to Apple following the purchase of NeXT by the company. Ive thought for sure that Jobs would give him the ol' pink slip seeing how the returning CEO was axing products like the 20th Anniversary Macintosh and the eMate. And the products "
we were shipping at the time… weren't very good at all
."
But it never happened. Luckily for Apple, Jobs found in Ive a kindred spirit when it came to design, and felt that Ive's talents had been wasted by former CEO Gil Amelio. The rest is history.
The first time Steve made the long trek over to the Design Lab, Ive was nervous and apprehensive. "That very first time we met, he had already started to talk about reengaging Harmut Esslinger [the founder of Frog Design, who had designed the first Mac]," Ive says. "He came over to the studio, I think, essentially to fire me."-Excerpt from "
Becoming Steve Jobs
"
With the interesting excerpts we've seen from this book, perhaps this is the title that
Universal's Steve Jobs' biopic
should be based on!
source:
FastCompany
via
AppleInsider