John Legere says Verizon and AT&T are "donating" customers to T-Mobile (VIDEO)
22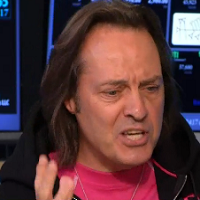 As we told you earlier today,
T-Mobile reported strong first quarter earnings covering the period from January through March
. Adding 2.2 million net new subscribers, the carrier continues the amazing success that began when CEO John Legere started the Un-carrier promotions. The brash, outspoken CEO has been able to transform an afterthought that was the fourth largest mobile operator in the U.S., to the most innovative of the group by listening to his customers and giving them what they want.
Never one to shy away from a camera, Legere appeared on CNBC this morning to comment on the carrier's Q1 earning report. After pointing out that this was the 12th quarter in a row with greater than 1 million net new adds (6 out of 7 with greater than 2 million adds), the executive notes that these are real customers, not IoT add-ons like Verizon's Hum car attachment. When asked by CNBC's Jim Cramer where all of these subscribers are coming from, Legere notes that T-Mobile has had three years of positive post-paid porting against the industry, adding that Verizon and AT&T are "donating" customers to T-Mobile "at record rates."
Legere also predicted that Verizon will make a stupid acquisition in the next six months. The nation's largest carrier is considered a player in the Yahoo sweepstakes, and did purchase AOL last year for $4.4 billion. All of this had T-Mobile's CEO taking the mickey out of his rivals as usual. "In the next six months, they're going to do some stupid acquisition," Legere commented. "Millennials still will hate them." He added that Verizon "frankly wants to be in a different business."
You check out a portion of the CNBC interview with John Legere by clicking on the video below.
source:
CNBC
via
YahooFinance