Jelly Bean more than doubles its share of the Android ecosystem
28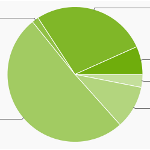 This month wasn't a big change in the Android platform version distribution chart, but there was a bit of movement, and a fairly large jump specifically for Jelly Bean, which more than doubled its share of the Android ecosystem.
Even just looking at the Android 4.1 part of Jelly Bean, the version more than doubled its share from 2.7% to 5.9%, and adding in the Android
4.2
part of Jelly Bean will add in an extra 0.8%. And, 0.8% may look like a pretty small number, but given that
Android 4.2
was just released about 3 weeks ago, and is only available on 4 devices (Galaxy Nexus, Nexus 4, Nexus 7, and Nexus 10), that's not a bad showing.
Although, we're not expecting all that much movement on the Android 4.2 share this month since the Nexus 4 is still showing as either sold out, or shipping in "5 to 6 weeks" in the Google Play Store.