Italian designers would make beautiful iPhones: Antonio De Rosa edition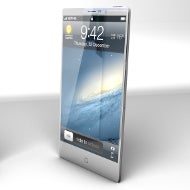 Design, appearances, and boutique expensive cars are things everyone would agree Italians excel at, and when a designer from that part of the world chimes in on the next iPhone's design, it is bound to look stunning.
Antonio De Rosa from ADR Studio is no stranger to iPhone mockups
that we wish Cupertino could translate into the real thing. His renders are so detailed, that he even makes mockups of the way Apple's website would look with them. They are complete with the catchphrases Apple might use for the new features and materials in the next iPhone(s), like "Liquid Metal, Solid Dreams".
His latest concept is called "
The iPhone Plus: The Non Plus Ultra Smartphone is here
", and entails:
- Liquidmetal Body: thermoformed on a single plane, no junctions needed;
- Screen with double alkali-aluminosilicate sheet glass;
- 4.3″ Retina Display with In-Cell technology;
- A6 Quad Core processor;
- Rear Camera: 10.0 Megapixel, f/
2.4
, 1080p Full HD video at 30 frame/s;
- Front Camera: 2.0 Megapixel (VGA), 480p VGA video at 30 frame/s;
- Top pico-projector to beam photos and videos on any surfaces;
- Slim design for an
edge
-to-edge thinner profile;
- New slim-dock connector;
- Fully Capacitive Home Button;
Have a look at his dreamy concept in the slideshow below, and tell us what you think about the eventual design of the
iPhone 6
. Metal? Larger screen? Slim body?