Is your smartphone spying on you? (Infographic)
5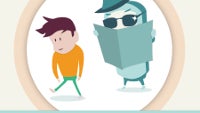 In the day and age when governments, companies, marketers, and assorted hackers, have their prying eyes on our digital life, smartphones have become a godsend for each and every tracking purpose. They can log our movements, location, searches, messages and calls, and send that information freely to anyone without the average user ever realizing what's going on.
After the NSA snooping revelations, there has been a proliferation of privacy-oriented apps. We already
reviewed the secure messaging client Telegram
, which is a part of a growing cohort of new applications for Android that promise to keep tab on your phone's overall communication habits, telling you which pieces of your personal information get sent out, and to whom. The overall state of phone surveillance affairs is pretty grim, though, as you can see from this handy infographic below.