Intel seeking to speed up development of its mobile chips
25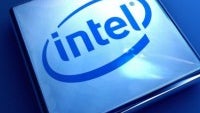 Intel inside
used to mean something back in the days when people used a computer to access the internet. But with the rise of the smartphone, ARM supported chips took over and Intel found itself not quite as relevant in the mobile space as it was on the desktop. To remedy this, the company is dipping into its wallet to try to spur faster development of
mobile Atom chips
.
Currently, Intel is releasing just one to two mobile chips a year, which is not going to cut it against ARM based competitors like Qualcomm. Additionally, a number of handset manufacturers are making their own chips which adds to the pressure on Intel to produce more mobile silicon. Besides the phone manufactures with their own chips like Samsung, Huawei and Apple, companies like Qualcomm and NVIDIA are formidable competitors in the high to mid range area while MediaTek is now associated with the low-end of the market. It doesn't leave much room for Intel to compete.
New Intel CEO Brian Krzanich, who is a Google Glass wearer, sees opportunity in the upcoming surge for wearable computers and says that Intel will be powering more mobile devices toward the end of this year and the beginning of 2014. In the past, newer equipment was used to make PC chips while the mobile Atom line was produced on older equipment, something that will change under Intel's new leadership. The CEO says that Intel now sees its mobile line as being as important to the company as its Core line of PC chips. "
We see that Atom is now at the same importance, it's launching on the same leading edge technology, sometimes even coming before Core
(Intel's line of PC chips)," says Krzanich, who currently sports a Samsung Galaxy smartphone but changes up each month to test out what's new.
While Samsung recently announced that
an Intel processor will power the Samsung Galaxy Tab 3 10.1
, Intel has even better news for its supporters.
The company last month announced its new Silvermont processor.
With improved performance and better battery life, analysts believe that with this processor, Intel is now ready to compete with Qualcomm for a larger share of the mobile industry.
"I think you'll start to see stuff with our silicon toward the end of the year and the beginning of next year," We're trying to get our silicon into some of them, create some ourselves, understand the usage and create an ecosystem."-Brian Krzanich, CEO, Intel
source:
Reuters