Intel unveils Silvermont processors in the hope of finally making a dent in mobile
54
Intel has dominated the desktop processor market for quite a long time now, but it hasn't been able to really crack the mobile market. Instead, the mobile market has been dominated by Qualcomm, Samsung, and NVIDIA, all of whom license ARM architecture to make their chips. Today, Intel unveiled its new line of Silvermont processors, which it hopes will help the company finally make some headway in the mobile market.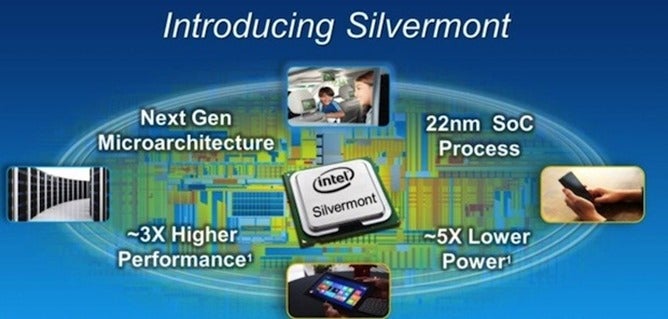 As you might expect when it comes to mobile processors, Intel is promising that the Silvermont line will offer more power in a more power-efficient package. Specifically, Intel says that the 22nm architecture chips will be about 3 times faster than current generation Atom processors while using about 5 times less power.
The chips also offer a new "out-of-order execution engine" which promises to speed up single-thread performance, as well as "a new multi-core and system fabric architecture scalable up to eight cores and enabling greater performance for higher bandwidth, lower latency and more efficient out-of-order support for a more balanced and responsive system."
The first of the Silvermont processors expected to hit the market will be the "Bay Trail" chips, which are set to be in tablets this holiday season, and it could also be seen in laptops and desktops.