Intel responds to Microsoft's sucker punch, to power convertible Lenovo Yoga with Android next month
11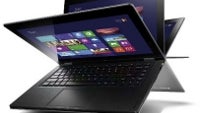 Microsoft suckerpunched Intel with the decision to
out a Windows version for ARM chipsets
, and make Win 8 apps compatible with both ARM and x86 architecture going forward, but Chipzilla is striking back opening its silicon to some Android love in its turn.
Intel is reportedly planning to power
convertible tablet notebooks, running Android
, and,
just as we heard before
, we might see the first one as soon as next month, the sources confirmed. This will be a variation of the innovative
Lenovo Yoga
design, but running Android, and sporting Intel inside.
The Yoga screen half flips 360 degrees to touch the keyboard half and form a tablet, or can be used as a regular notebook with a physical keyboard. Other manufacturers have allegedly also responded to Intel's answer towards the Android tablet proliferation, and are prepping convertible notebooks with Google's mobile OS, and these include industry stalwarts like Hewlett-Packard, Toshiba, Acer and Asus. Check out the pics from our IdeaPad Yoga 11 hands-on below, now imagine this thing with Android, and hopefully cheaper.