Instagram's Android app gets 3D Touch-like features without the need for pressure-sensing displays
26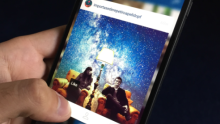 Ever since Apple debuted "Force Touch" on the Apple Watch earlier this year, the pressure-sensing mechanism has been at the center of heated debate. On one hand, there are some who don't feel like Force Touch - or 3D Touch as the same system is called on the iPhone 6S and iPhone 6S Plus - adds any real-world utility. On the other, some argue that a display's ability to detect various pressure levels opens up the door to a new level of user interaction. In this context, we'd like to talk about how Instagram has attempted to bring 3D Touch-like functionality to its Android app.
A new update to the Instagram app for Android borrows a trick that the Facebook-owned social network originally debuted on the iOS version of the app. On the iPhone 6S, for example, users can preview an image by performing a hard press on a photo's icon. In the new Instagram app for Android, this feature is replicated in a similar fashion, although it is initiated by a long press, not a harder one.
On iOS, 3D Touch also allows the user to launch shortcuts by hard pressing on the Instagram icon in the home screen, but this feature was not ported to Android as the OS doesn't support app shortcuts from the home screen.
In itself, the ability to preview a photo by long-pressing its icon is far from revolutionary. In the current context, however, it's very interesting to note that Android app makers are starting to realize that the simple long press can mimic 3D Touch-enabled features. Looking into the future, multiple Android smartphone makers are said to be interested in adopting a
pressure-sensing display technology
that Synaptics has unveiled a few months ago.
After briefly pushing the update yesterday, Instagram has since pulled it from the Google Play servers, claiming that this was just a test drive and that the feature may roll out in a future version of the app. If you can't wait until that happens, head on over to this link and
download the Instagram 7.13.0 (18650373) APK file
.