Inside the failed T-Mobile-Sprint talks
18
Yesterday, we told you that
merger talks between Sprint and T-Mobile had been called off for good
, despite the strong possibility that such a deal would have created a financially sound carrier that could challenge Verizon and AT&T. So what happened to the deal that turned what many considered a sure thing, into just another failed attempt to merge the numbers 3 and 4 stateside carriers?
According to the
Wall Street Journal
, blame for the failure to combine T-Mobile and Sprint should be placed on SoftBank CEO and Sprint Chairman Masayoshi Son. The executive had it in his mind that he would be able to merge the weaker Sprint with the much stronger T-Mobile, and still come away with control of the combined company. That wasn't going to happen. T-Mobile has become the most innovative and fastest growing of the four major U.S. carriers and doesn't need Sprint to challenge AT&T and Verizon over the next decade With Sprint in its back pocket, the only difference is that this might have happened sooner.
What Sprint has that T-Mobile wants, is the horde of 2.5GHz high-frequency spectrum which complements T-Mobile's trove of low frequency spectrum in the 600MHz and 700MHz band. While the latter travels farther and penetrates buildings better, Sprint's airwaves could be useful to T-Mobile when it starts to build out its 5G network.
When
SoftBank purchased its majority stake in Sprint back in 2013
, Son tried to work out a three-way deal with Deutsche Telekon to purchase the German telecommunication firm's U.S. subsidiary, T-Mobile. At the time, T-Mobile was the fourth largest U.S. wireless carrier and was way behind in building out its 4G LTE network. Both sides tried again in 2014,
but the FCC and DOJ both hinted that they would reject any deal
.
As we said, things are different now. T-Mobile is now dealing from a position of strength. With a CEO as famous and popular as any executive has ever been, T-Mobile's brash John Legere has his own large legion of fans who follow him on social media. Almost every minute of every day is broadcast on Instagram or Twitter and this has had the effect of raising the visibility of the T-Mobile brand. Legere's focus on fixing consumer's pain points has also helped T-Mobile grow rapidly.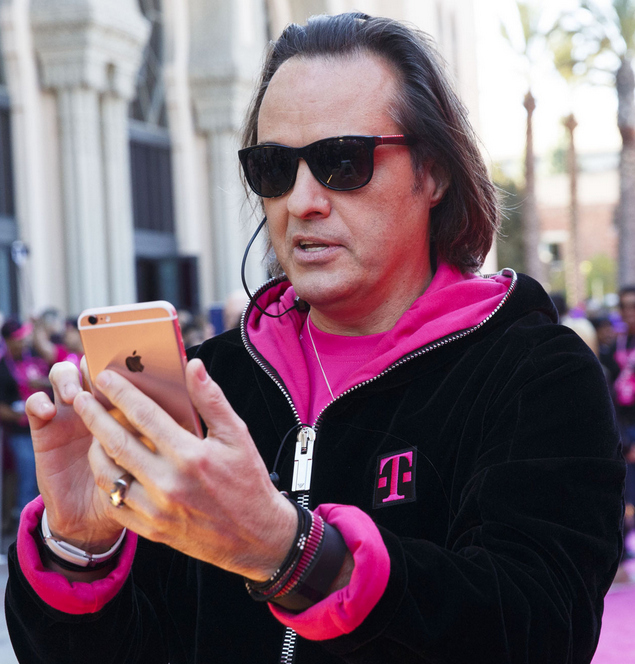 T-Mobile CEO John Legere told Sprint CEO Marcelo Claure that T-Mobile's board didn't want the deal to die
Last month, it appeared as though both sides had agreed to the outline of a deal. The transaction would be made using stock only. Deutsche Telekom would have control of the merged company, and John Legere would run it. That would leave SoftBank's Son without a say in the future direction of the company. And while Sprint's investment banking team thought that the exchange ratio for the deal (essentially, the number of T-Mobile shares that would be exchanged for one Sprint share) had been agreed on, Sprint's falling stock price had T-Mobile thinking about lowering the exchange ratio.
According to the Journal, this was not what Masayoshi Son wanted to hear. He considers Sprint to be a major SoftBank asset and forecasts a future where wireless firms will connect millions of devices for businesses, including robots. Thus, Sprint's Chairman did not want to give up control of the combined carrier. For its part, Deutsche Telekom also sought control so that it could include U.S. results in the company's quarterly and annual earnings reports.
After
SoftBank scrapped the deal on October 30th
, John Legere spoke on the phone with Sprint CEO Marcelo Claure following a T-Mobile board meeting. Legere told his Sprint counterpart that T-Mobile's board didn't want the deal to die. As a result,
the company adjusted the previously discussed terms of the deal
allowing the transaction to continue with an exchange ratio that would give Sprint a larger ownership stake while giving up fewer shares. But this was not good enough for Masayoshi Son and the deal was scrapped.
"Both management teams have failed their shareholders. There was $50 billion of value to be created out of this deal…Neither company is going to create that magnitude of value in some alternative way."-Jonathan Chaplin, analyst, New Street
The feeling is that the two carriers have missed a golden opportunity to create a challenger to Verizon and AT&T. As one person close to the talks said, "The synergies that this deal offered were bigger than the deal. Bigger than the market cap of Sprint. The synergies were massive, and that's what keeps everybody going." A combined T-Mobile-Sprint would have had close to the same number of subscribers as AT&T and might have thrown a scare into Verizon, the nation's largest carrier. Unlike 2014, this time a deal might have made it past the FCC and DOJ. Now, we'll never know.
source:
WSJ