India and RIM extend negotiation deadline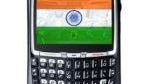 India and RIM
haven't yet reached terms regarding access to RIM's secure servers, but India has extended the negotiation deadline to January 31. The previous deadline was set for October 31, on which India would have suspended BlackBerry service in their country.
India's Ministry of Home Affairs has said that they have reached a temporary agreement with
RIM
, under which they now have legal access to BlackBerry data. This means BlackBerry customers in India will retain their BlackBerry Messenger service...at least for now.
RIM says that they will have a final agreement prepared by January 31st. This is the second deadline extension, after they were initially supposed to suspend service on August 30, and then October 31. India's government has also targeted
Google
and
Skype
with a similar ultimatum, demanding access to otherwise off-shore, encrypted data.
The conflict with India over access to secure servers follows a similar
struggle with the UAE
(United Arab Emirates). India and the UAE essentially want lawful, unfettered access to RIM's secure servers. Their governments allege that the encrypted data from BlackBerry devices poses a security risk, as the governments were unable to view them (legally).
As to their continued negotiations, RIM offered the following: "RIM confirms that it continues to approach lawful access matters internationally within the framework of core principles that were publicly communicated by RIM on August 12." These "core principles" basically state that the nation's access should be limited to national security concerns, rather than commercial or regulatory ones.
source:
CNET
via
TheBoyGeniusReport
Recommended Stories