RIM to give in to India's demands?
This article contains unofficial information.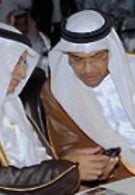 Has RIM changed its stance on giving in to India's demands? RIM has already given the country the green light to monitor BlackBerry's messenger service since Sepptember 1st, according to a source inside the Indian government who talked with Reuters. But that is not enough to placate Indian officials. The source goes on to say, "Discussions are under way so that we get access to the other service which is corporate email so that we can read it in readable format."
The issue is important to RIM because India is the world's fastest growing market for cell phones, and other competing devices like Nokia handsets and the iPhone only require permission from the cellular carrier to intercept data. Carriers handling BlackBerry calls have no access to its encrypted data.
Indian officials have requested the ability to access data from RIM because they are worried that the service could be used by plotters to send information back and forth among conspirators seeking to sit up political or social unrest in the country. Other countries in the region like Saudi Arabia, Kuwait and the UAE have requested access to data as well. So far, RIM has agreed with Saudi Arabia to let the country monitor BlackBerry messenger information while the UAE has given the Canadian based firm until October 11th to reach an agreement or else the country will prevent certain BlackBerry features from working inside its borders.
source:
Reuters