In pictures: The differences between the Sony Xperia Z4 and Xperia Z3
86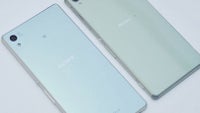 Announced three days ago, the
Sony Xperia Z4
is a conflicting device. To start off, while it satisfies Sony's long-standing rule of refreshing their flagship line twice a year, some would argue that it fails to satisfy consumers' need for more palpable upgrades. Indeed, the Xperia Z4 is
a lot
alike the
Xperia Z3
, which, in turn, was a lot alike the
Xperia Z2
, which was... you guessed it – a lot alike the
Xperia Z1
.
And yet, the Xperia Z4,
which is currently exclusive to Japan and will launch under a different name in Europe
, does offer improvements over its predecessor, some of which significant. For example, the device leapfrogs Qualcomm's Snapdragon 805 processor, and is making a jump to the Snapdragon 810. That's a noteworthy upgrade, considering the Z3 has Snapdragon 801 on board. Also improved is the front-facing camera – a traditionally weak spot for Xperia devices – and the unit is now touting 5.1-megapixels and wide-angled lens for superior selfies. Last, but not least, the Xperia Z4 has also slimmed down, and is only 0.27 inches-thick (6.9 mm).
All of this you could surmise for yourself as soon as announcement day, however. But what about the smaller details, the ones you can't make out from a specs sheet? Japanese
RBBToday
has taken a number of photos of the Xperia Z4 next to the Xperia Z3 in an effort to exemplify just those. They include a break from the flaps-heavy design, and a move to a more flush frame and an easily accessible charging port (which is still waterproof). In addition to that, Sony has done away with the extra magnetic port on the side, moved the front-facing stereo speakers to the very ends of the top and bottom bezels, and has also moved the microphone on the top frame to the other side.
See for yourself.