In July, Samsung shaves off $200 from every Galaxy Note 4 purchase... if you jump through a couple of hoops
18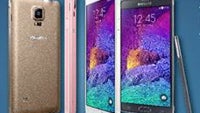 In the wake of LG offering a couple of
juicy freebies
with every purchase of a brand-new
G4
, Samsung is about to launch a special promotion for the
Galaxy Note 4
. Starting in a couple of hours and up until 11:59 PM on July the 26th, you can buy a Note 4 and get $200 back from Sammy.
In order to take advantage of this effective $200 discount, you must make your purchase within the promotional purchase period (7.7.2015 – 7.26.2015) and register the item on
www.samsungpromotions.com/notablesavings/
before the first minute of the 27th of August rolls about. Registration requires a scanned copy of your receipt, the device's IMEI, and Wi-Fi MAC address.
This offer is open to residents of the 50 states and the district of Columbia, so long as they are at least 18 years old. The purchase needs to be made from a "participating location", which seems to include carriers and various partnering stores, but we can't seem to find a list at the moment. What we can tell you for sure is that Samsung says that US Cellular and Sprint devices will not be taking part in this offer – ouch.
The Note 4 is the latest model from Sammy's S Pen-toting phablet line. It rocks a beautiful 5.7" Super AMOLED display, a 32-bit Snapdragon 805 SoC, 3 GB of RAM and one of the best cameras that we've seen on a mobile phone to date. It will, most probably, be
succeeded by the Note 5
in just a few months, but it will be a while before we can call it obsolete in any way.
So, LG is promoting its very latest and greatest for the summer, while Sammy is only budging on a 10 month-old model. Would you jump on a
Galaxy S6
if Samsung decided to shave $200 off it instead?
No images