If you fall for this hoax, you could blow up your iPhone or iPad
99+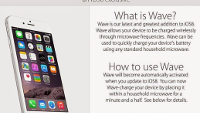 A feature that purportedly allows wireless charging on iOS 8, is a hoax. Following directions sent via a tweet, could lead to the destruction of your iDevice and could be harmful to your health. The alleged feature is called
Wave
and claims to be Apple's "
latest and greatest addition to iOS 8
." According to the tweet, Wave allows you to charge your device using microwave frequencies. The promotional material for Wave says that you could use any household microwave appliance to run the program.
According to the tweet, Wave becomes active once you update to the latest iOS version. As for the instructions, it says that users can recharge their device by popping it into the microwave oven for 60 seconds at 700w, or for 70 seconds at 800w. The directions add that users should not Wave-charge for over 300 seconds.
Do not follow the directions on the tweet. Obviously, this is a fake; those who do bombard their iPhone or iPad with microwaves by sticking it in an oven will not only destroy the device, but could also start a fire or cause an explosion.
Thanks for the tip, Suzanne!
source:
Independent