IDC sees tablet shipments rising faster than expected; firm raises estimate for 2012 and 2013
2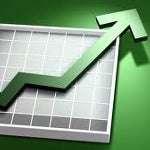 Analytics firm IDC sees
117 million tablets being shipped in 2012
followed by 165 million to be shipped next year. Those figures are up from the original estimates of 107.4 million and 142,8 million respectively. IDC doesn't see the growth in turnover ending there either. It forecasts 2016 shipments at 261.4 million.
"Despite ongoing economic concerns in most regions of the world, consumers continue to buy tablets in record numbers and we expect particularly strong demand in the fourth quarter. Apple leads the market with its iPad and we expect its dominance to continue in the second half of the year. Still, we believe there is room in the market for others to find success, and new Android- and Windows-based products shipping in the coming months will give consumers plenty of buying options during the holiday season."-Tom Mainelli, mobile connected devices analyst, IDC
The
Apple iPad
continues to
be the market leader
. Last year, Apple's tablet grabbed 57.2% market share which IDC sees rising to 60% in 2012. By 2016, the iPad should slip back to 58% ownership of the tablet market, but still have the majority of market share. Android tablets, led by the low priced
Amazon Kindle Fire
, had 38.9% of the tablet market in 2011. This year, 35.3% of tablets sold will have the Android platform dropping to 30.5% by 2016.
Startng from a low base of 1% of the market in 2011, all forms of Windows tablets, including the upcoming Windows 8 and Windows-RT units, will
quadrupole to 4% of the tablet market in 2012
. By 2016, IDC sees Windows tablets commanding a respectable 11% of tablet sales, taking share away from both the Apple iPad and Android models. While official pricing of the Windows tablets are unknown, Microsoft CEO Steve Ballmer recently said that his firm's
Surface tablets will not be the "cheap option"
.
IDC sees low priced tablets hastening the end of the line for eReaders. Low priced tablets under $200, like the
Amazon Kindle Fire HD
($199), the
Google Nexus 7
($199) and the
Amazon Kindle Fire 2
($159) will lead to a decline in eReaders to 2012 shipments of 23.6 million. That is down from 27.7 million shipped last year and shows that eReader sales probably peaked last year.
source:
IDC
via
eWEEK
Chart: Worldwide Tablet Shipments Split by OSHistorical and Forecast* 2011 - 2016 (Units in Millions)
Description: Worldwide Quarterly Tablet TrackerIDC's Worldwide Quarterly Tracker provides total market size and vendor share for both the Media Tablet and eReader markets in 46 countries. Detailed segmentation is provided by CPU, operating system, connectivity type, screen size and resolution, storage, distribution channel, and customer segment. Measurement for this tracker is in units, value, and end-user price. For more information, or to subscribe to the research, please contact Kathy Nagamine at 1-650-350-6423 or knagamine@idc.com. Further detail about this tracker can be found at:http://www.idc.com/tracker/showproductinfo.jsp?prod_id=81
Tags: iPad, iOS, Apple, tablet, worldwide shipment, android, forecast, unit shipment, windows 8, mobile OS, Samsung, Google, IDC, tracker, Q2 2012, 2Q 2012, 2012 Q2, Galaxy Tab, Nexus
Author: IDC
charts powered by iCharts