IDC says tablet shipments continue to drop but hybrids are helping
23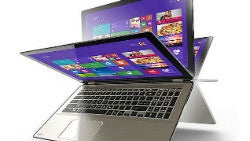 The tablet market is in rough shape, that much is impossible to ignore at this point. As smartphones engulfed what had been considered the "phablet" range of sizes, smaller tablets disappeared and larger tablets began merging with laptops. Consumers still seem to be unsure what the value of a standalone tablet may be, but hybrids are finding users according to IDC.
The latest quarterly report from IDC showed that 46.7 million tablets were sold in Q1 of 2016, which marks a 10 percent year-on-year drop and a 33 percent decline compared to the Q4 holiday sales for 2015. Interestingly, despite the sales numbers dropping, the average selling price per device has held steady at $241 which means there are more higher priced tablets being sold. Of course, this is really just because of the trickiness of laptop hybrids being included in the numbers. Even though many laptop hybrids may never actually be used as a tablet, because that possibility is there, they get counted in these numbers, which seems shady at best.
This can be seen with the disparity between sales shares and value share (aka $$$$) in the IDC numbers. Despite Windows devices being only 14 percent of the shipments, they made up 20 percent of the value, because many were more pricey laptop hybrids. And, Apple was 22 percent of shipments (on both OEM and platform charts) but 39 percent of value, because Apple devices carry higher price tags. On the other end of things, Android made up a massive 64 percent of shipments, but just 41 percent of value because white label super cheap tablets still dominate shipments (28 percent of OEM) of the sales share.