Huawei compares the notch on the P20 to the one on the Apple iPhone X and says smaller is better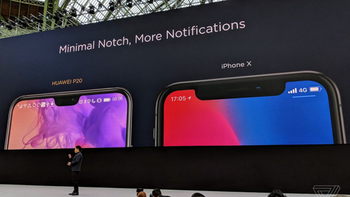 When it comes to the notch on a smartphone, Huawei says that smaller is better. Currently the second largest smartphone manufacturer on the planet, the company is flexing its muscles in the midst of a press tour in the U.K. by comparing the size of the notch on the
Huawei P20
, to the one that adorns the
Apple iPhone X
. On a giant sign that is placed behind the stage, we see the top of both phones with the words "Minimal Notch, More Notifications" above the images. However, what Huawei doesn't point out is that the
P20
has a chin, which is something that the
iPhone X
doesn't have.
Many other phones have an even smaller notch than the Huawei P20, including the Oppo R17 with its teardrop screen. The latter handset also sports a very small chin. And the
Essential Phone
also sports a small notche.
But the ultimate goal is to offer a nearly bezel-less phone without the use of the notch. And while their have been such devices offered, such as the Vivo Apex (with a selfie camera that pops up from the top of the handset), for this year at least, quite a few Android manufacturers have embraced the notch. Google has added native
notch
cutout support to Android Pie, and the
Google Pixel 3 XL
will
have a nice-sized cutout based on leaked videos and pictures of the device
. Of course, not every Android phone carries a notch, most noticeably those produced by Samsung.
Ironically, while the world seems to have gone notch crazy, there is
speculation that Apple will go notch-less with the 2019 iPhone models
. This can be achieved if suppliers are able to shrink down the components and sensors currently housed in the TrueDepth Camera. Apple has already been awarded patents that could allow the technology to be placed in the display using microscopic pores. And while the iPhone wasn't the first handset to employ the notch, if next year's iPhones arrive notchless, you can be sure that it will also start disappearing from Android models as well.
(Top image credit: Vlad Savov / The Verge)