Huawei P10 vs Google Pixel, iPhone 7, Huawei P9, Galaxy S7 edge, HTC 10: Preliminary size comparison
11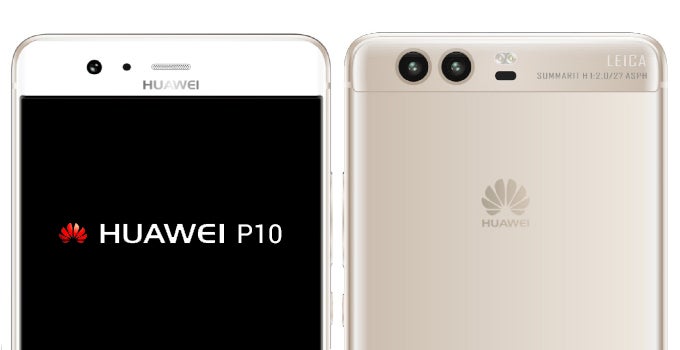 With the official reveal of the Huawei P10 inching closer and closer, it seems like we're learning something new about Huawei's upcoming flagship almost every day. The P10 will be unveiled at MWC 2017, which is just short of two weeks away, and we've already seen the device in numerous renders, including a freshly leaked
360-degree video
showcasing the flagship from all angles. Huawei also teased the
color variants for the P10
on Twitter, dispelling previous rumors that the phone will be available in purple (spoiler: it's going to be blue).
With all the info on hand, we decided to take a look at how the upcoming Huawei P10 compares to current popular offerings in terms of size. Now, as can be expected from anything preliminary, we can't be
absolutely
certain that the dimensions used here are accurate down to a fraction of a millimetre, but they should be very close to the real thing.
Further, these dimensions were revealed earlier today by notorious Twitter leaker
@OnLeaks
, who claims that the P10 will pack a 5.2-inch screen, when previous leaks have widely suggested a 5.5-inch device.
With that said, let's take a look at how the Huawei P10 stacks up against its predecessor, the P9, and other current flagship smartphones in terms of size, provided its display remains at 5.2 inches: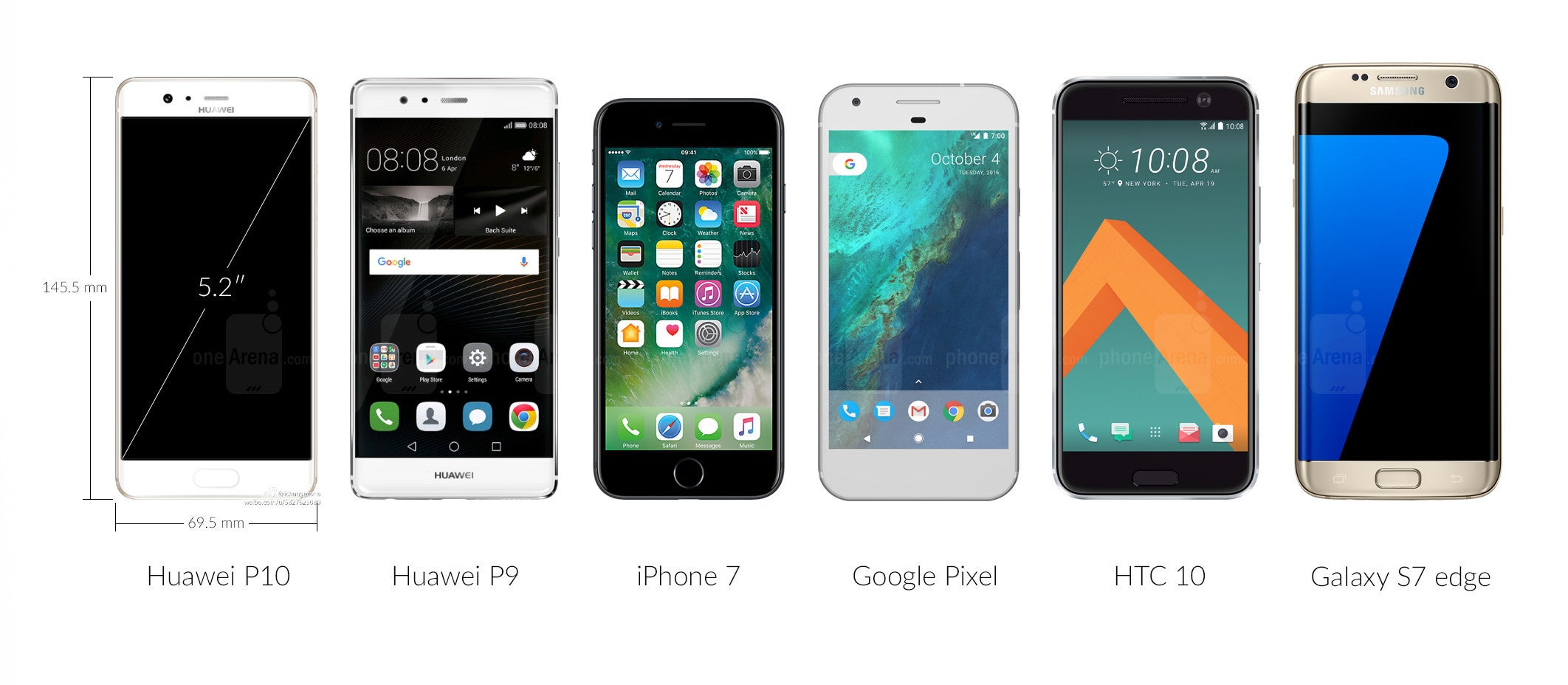 Click image to enlarge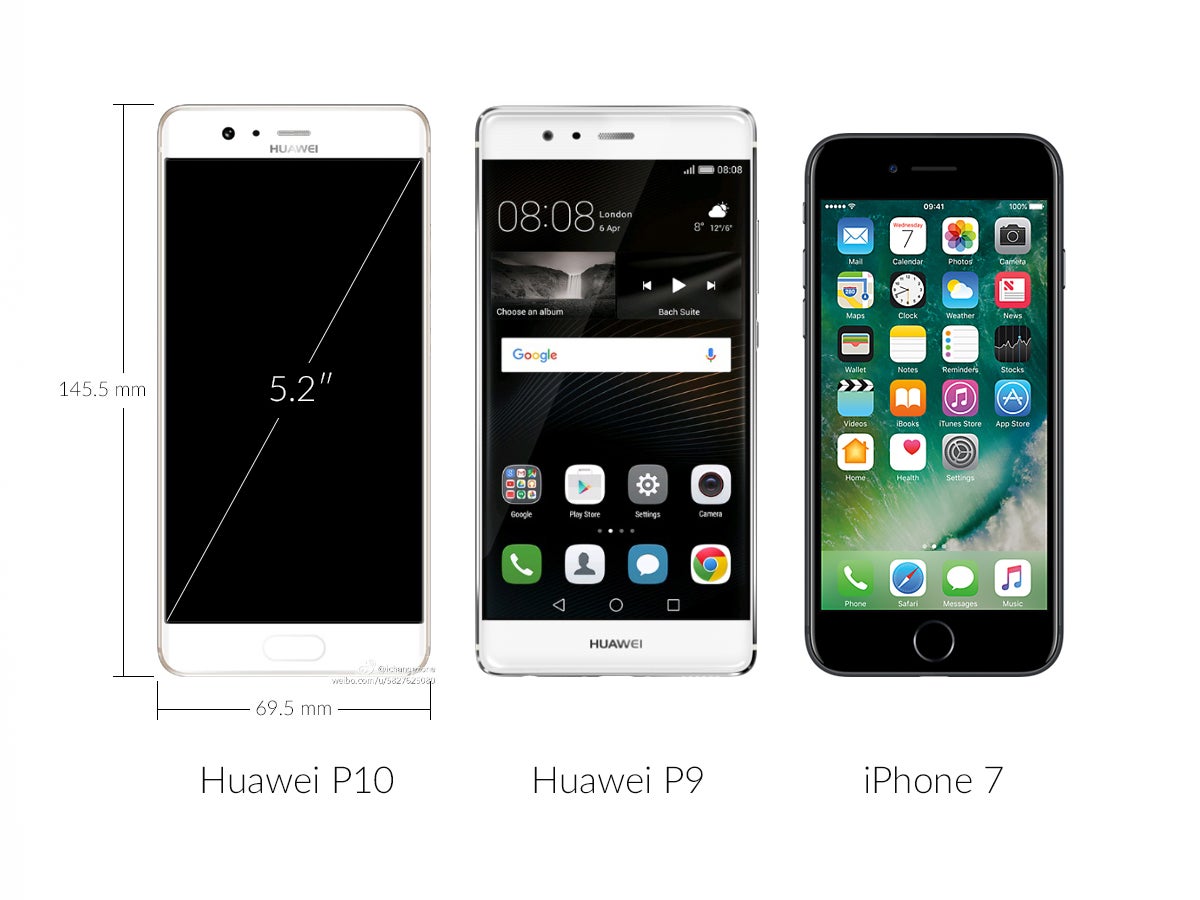 The P10 (5.2″) has a footprint that is almost identical to that of its predecessor, given that it also retains the same screen size. Measuring at 7.35 mm in thickness, the P10 is just a tad bigger than the P9, which measures at exactly 7 mm.
To put things into perspective, the P10 (5.2″) is just a bit taller than the 5.0-inch Pixel (148.8 mm), all the while packing a bigger screen (5.2 vs 5.0″). It is also about a millimetre thinner (7.35 vs 8.5 mm).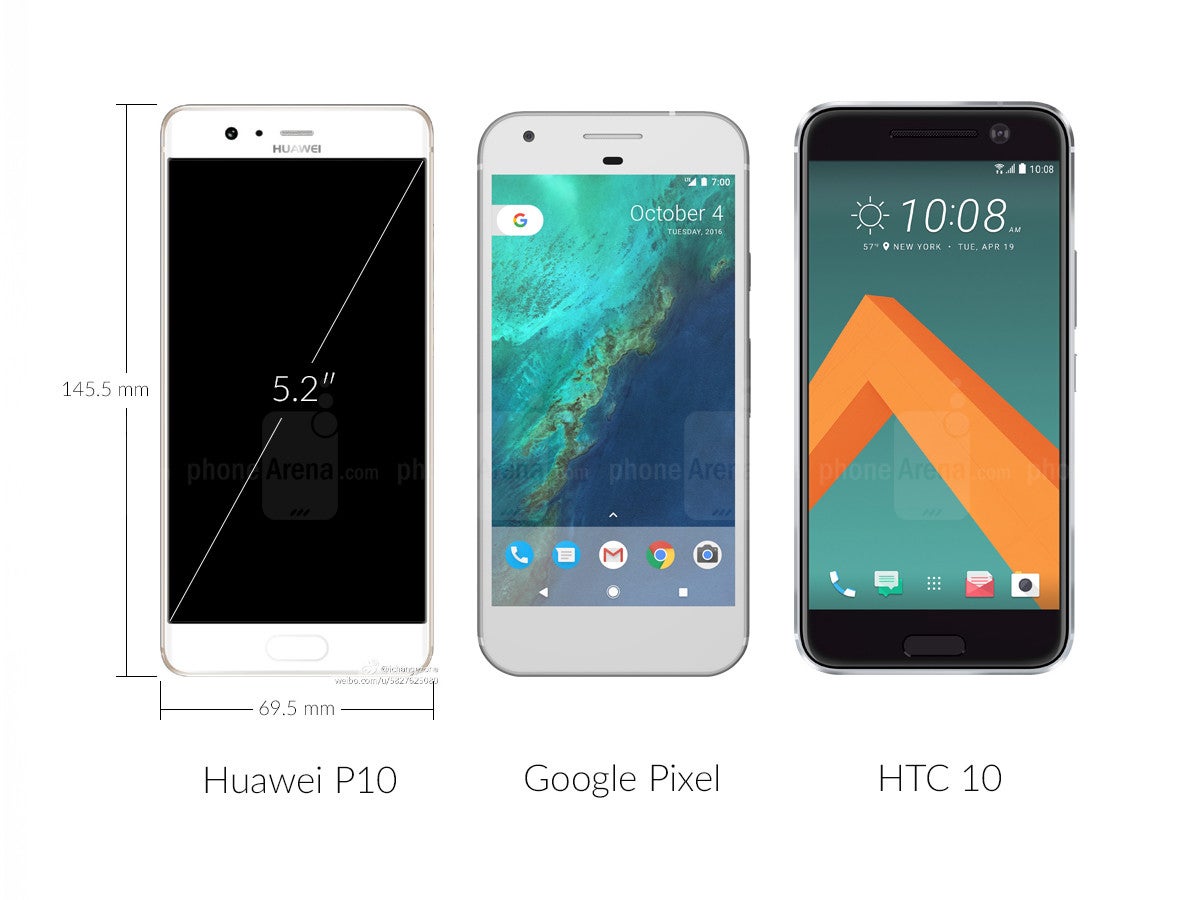 The P9 had a decent screen-to-body ratio that will likely remain the same on the P10 (5.2″), as Huawei has decided to ditch its brand logo from the bottom bezel, replacing it with a physical home button. We're a bit split on this decision, as retaining P9's fingerprint scanner/no physical buttons setup and removing the logo could have potentially slimmed down the handset's bezels, but that's a design choice that some users may appreciate.
Now, keep in mind that there are currently rumors going around about
three
different P10 variants – the P10 Plus, P10 Lite, and a basic model. Up until now, word was simply that the P10 would be a 5.5-incher, but the latest info by
@OnLeaks
suggests that the base model will likely retain its predecessor's screen size (presumably the Lite version as well), while the Plus model will supposedly bump things a notch to 5.5 inches.
Note: This comparison is for the base model of the Huawei P10 only! It is based on dimensions taken from factory CAD blueprints and does not take into account previous rumors about a 5.5-inch base version of the P10.
Recommended articles: