Battery capacities leaked for the Huawei Mate 30 and Mate 30 Pro
17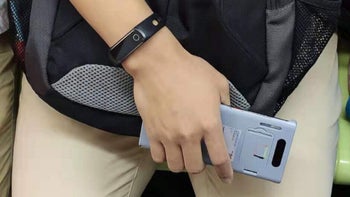 While it isn't clear whether
Huawei will install Android or its own HarmonyOS on the Mate 30 and Mate 30 Pro
, we might have an idea about the capacities of the batteries that will be used on both models. Photographs posted on Weibo allegedly show the 4500mAh battery that will power the Mate 30 Pro and the 4200mAh battery expected to keep the lights shining on the non-Pro Mate 30 model. Last year's
Mate 20 Pro
and the company's current premium handset, the
P30 Pro
, both carry a 4200mAh battery inside.
Huawei Mate 30 and Mate 30 Pro could support 25W wireless charging and 55 W wired charging

The 7% bump for the Mate 30 Pro battery and the 5% hike for the one in the Mate 30 are certainly needed these days thanks to the reverse wireless charging feature. This allows the back of a phone to be used as a wireless charging pad and charge up
earbuds
and even compatible phones like the
Apple iPhone 8
and up. The host battery "shares" some of its power with the device lying on its back which is why having this additional battery capacity will surely be welcome by owners of the Mate 30 and Mate 30 Pro. Samsung offers this feature, calling it Wireless PowerShare, with the handsets that make up the
Galaxy S10
and
Galaxy Note 10
series. Speaking of wireless charging, there is speculation that the Mate 30 and Mate 30 Pro will support 25W wireless charging, which would be the fastest such speed found on a smartphone. And both models are said to support 55W wired charging.
Had Huawei not found itself on the U.S. Commerce Department's Entity List in May, the company most likely would have been riding the successful launch of the Mate 30 and Mate 30 Pro to top Samsung and become the world's largest smartphone manufacturer. Huawei delivered 206 million handsets last year placing it third behind Samsung and Apple. During the first quarter, its global shipments increased 50.3% to 59 million units moving it past Apple into second place. For the second quarter, Huawei shipped another 59 million phones giving it a total of 118 million delivered during the first half of this year. While many firms would be thrilled with this, Huawei traditionally reports a sequential gain in shipments from the first quarter to the second quarter; the fact that phone deliveries were flat over this period indicates that the U.S. supply chain ban is having a detrimental effect on Huawei's smartphone business.
Originally, Huawei planned to release the Mate 30 and Mate 30 Pro after the September launch of the foldable
Mate X
. But
with the latter delayed to as long as November
, it seems more likely that the foldable won't hit the market until after the Mate 30 and Mate 30 Pro have already done so. And of course, don't expect to find any of these Huawei phones offered for sale in the states. Earlier this year, New York's
B&H Photo sold the Latin American variants of the P30 and P30 Pro
equipped with the electronic retailer's own warranty. The phones were compatible with GSM networks like AT&T and T-Mobile. But once Huawei was placed on the Entity List, B&H quickly took down the listings and stopped selling the phones.