Huawei Mate 20 X hands on: is this the return of the "phablet"?
19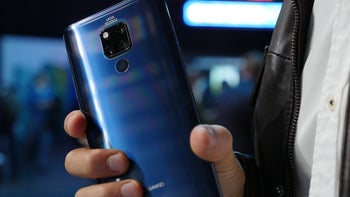 Years ago, when Samsung introduced the very first Galaxy Note phone, with a 5.3-inch screen, which felt huge by 2012 standards, the term "phablet" was popularized. It denoted a device that is unusually large to be called just a regular smartphone, yet more compact than a tablet. However, through the years, phone screens grew and grew. Nowadays, we consider a 5-inch screened device to be "compact", and flagships often push display diagonals beyond the 5.5-inch point, which was once considered "big".
So, the term "phablet" kind of died out. But Huawei's latest Mate 20 series might just bring it back. More specifically, we are talking about the Huawei Mate 20 X — a huge smartphone with a 7.2-inch screen.
Designed to be a mobile gamer and media addict's dream device, the Mate 20 X sure has some attractive qualities to it. We got some hands-on time with the phone, here's what we think about it!
Design
Yeah, even with the super-slim 2018-standard bezels, the Mate 20 X is still a big handset. Its 7.2-inch screen has a wide-angle aspect ratio of 18.7:9 and it pushes all the way to the top and bottom of the device, with just a small "dew drop" notch on the top of the screen, which holds the selfie camera.
Compared to a phone that's already big — the Galaxy Note 9 — the Huawei Mate 20 X is definitely taller, wider, slightly heavier, and a tiny bit (0.65 mm / 0.03 inches) slimmer. Its back is curved and we appreciate the ergonomics here — it's much better to have a soft, rounded back laying against your palm, instead of a rectangular shape, when we are talking about a phone of this size.
Like the other new members of the Mate 20 family, as well as most other top-range phones this year, the Mate 20 X has a glass back to enable wireless charging. However, Huawei has thought about the users who hate the fingerprint smudging and slippery qualities of a glossy glass. Some color options of the new Mate 20 phones have "Hyper Optical Pattern" finishing on their backs, which basically gives the surface a matte-like feel. The soft touch reduces grease smudging and makes the phone less slippery, as that "wet" feeling is reduced substantially.
Make no mistake, however, this is still a phone to use with two hands. Thankfully, Huawei has a one-handed mode baked into the UI, which shrinks the display area and allows you to operate the device while one of your hands is busy carrying groceries. But a huge phone body is still a huge phone body, so that's not a long-term solution, just an option for when you need to quickly tap something with a single thumb. Oh, you'd better get some jeans with deep pockets as well.
Display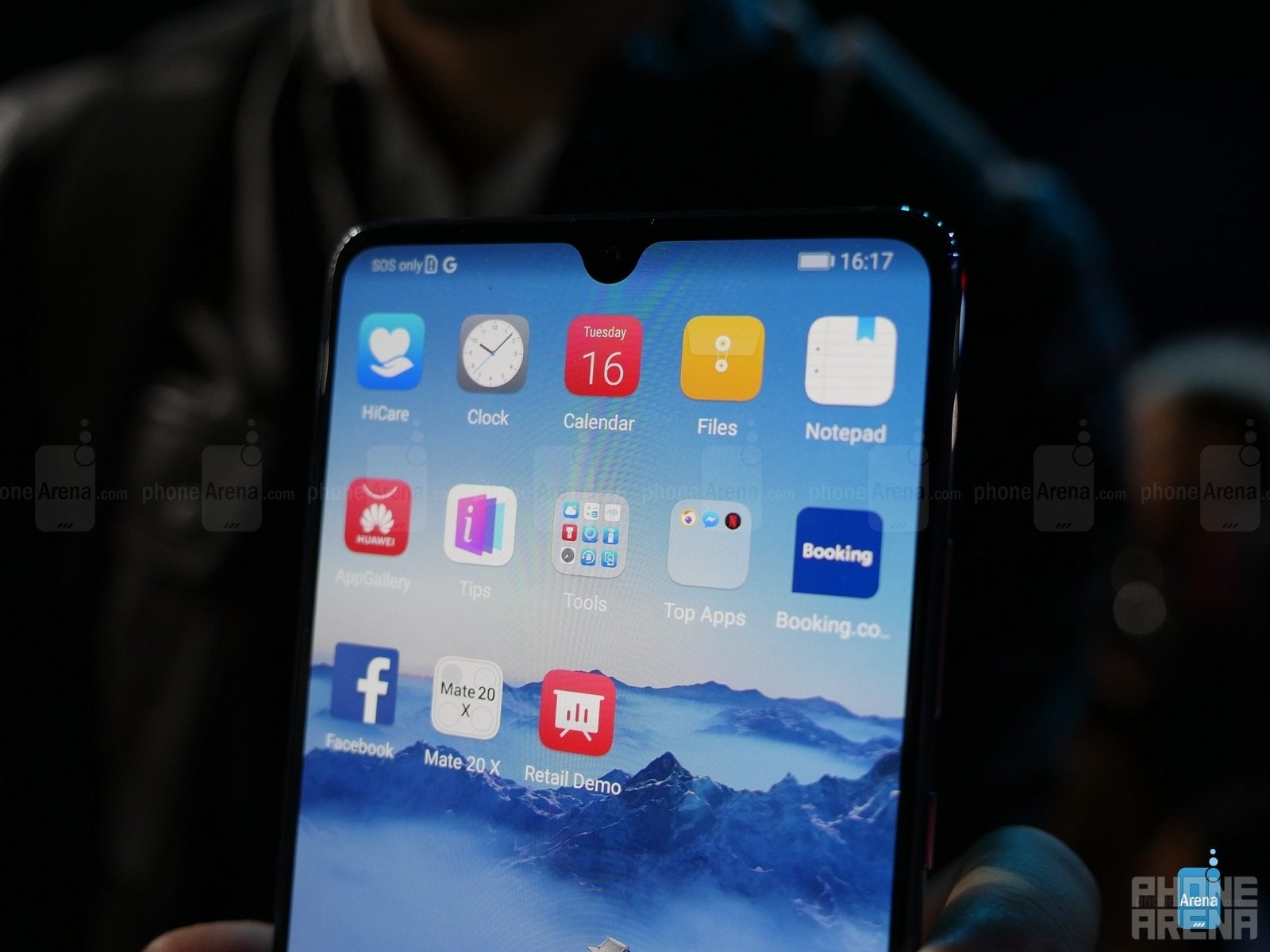 The OLED screen on the front has a resolution of 1080 x 2244 pixels, stretched across the 7.2-inch diagonal. Some purists will scoff at the fact that it's not a 1440 x 2960 resolution, since the display is on the bigger side and it may actually benefit from some extra sharpness. However, the 1080p we get here still make up for a pixel-per-inch density of 345. That's still sharp enough and still sharper than the upcoming iPhone XR's Retina-standard 326 pixels per inch. Some powerusers will appreciate the fact that Huawei didn't go over the top with its resolution, which means it won't be putting much strain on resources like the GPU and battery.
We were pleasantly surprised by the OLED panel's color calibration. While we can't make any accuracy claims from the hectic environment of the showfloor, we certainly found the colors to be grounded and non-aggressive with their saturation.
Performance, accessories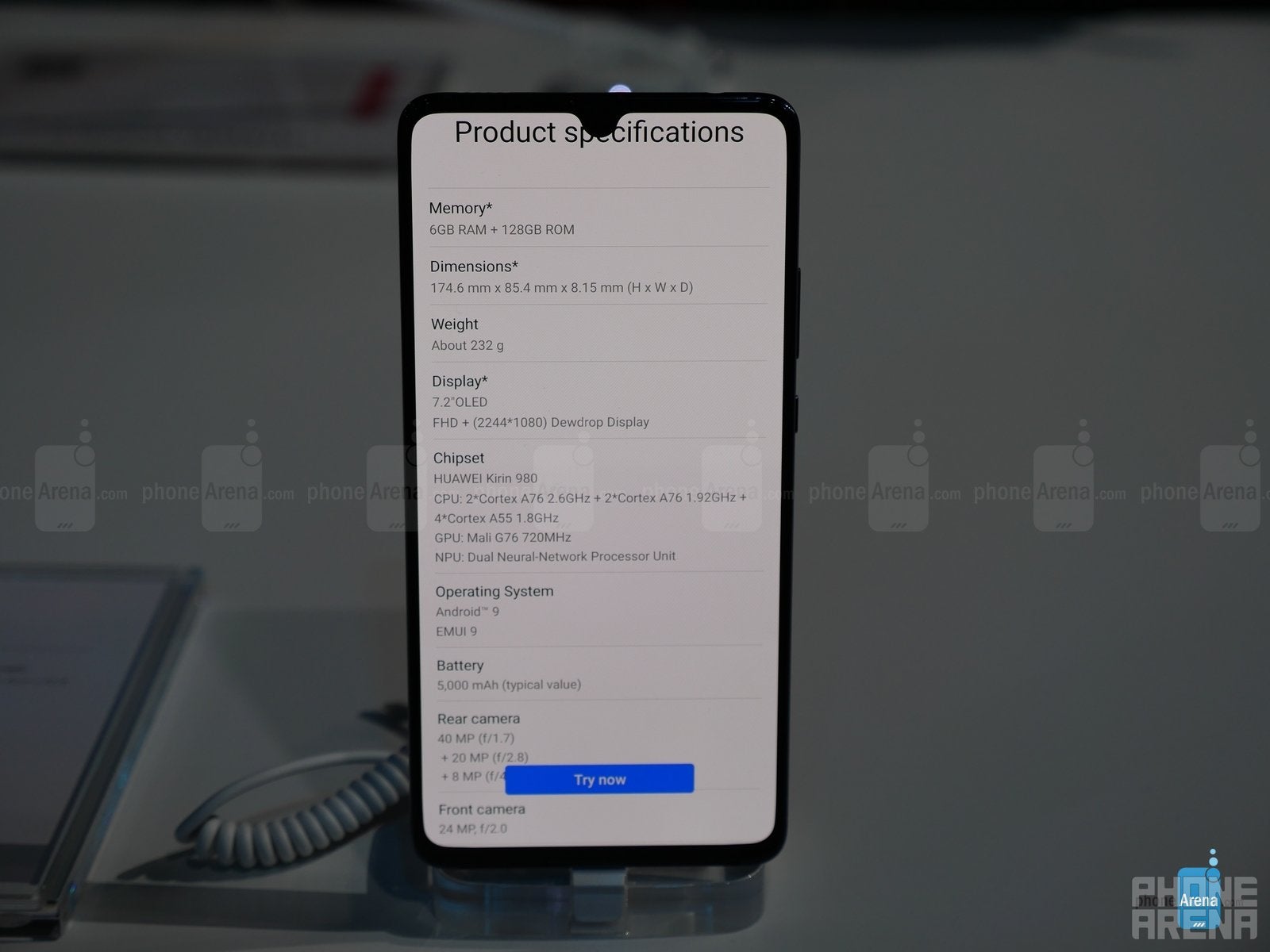 The Huawei Mate 20 X was heavily marketed as a gamer's phone. It's positioned right between the Mate 20 and Mate 20 Pro — it has that huge screen and is the only one of the three to sport stereo speakers. However, it doesn't have any of the Mate 20 Pro's fancy features, like 3D Face scanning, in-glass fingerprint scanner, or a curved display, so that allows it to be cheaper. Well... relatively cheaper than the top-tier guy.
But rest assured, no other corners were cut. the Mate 20 X is still powered by the Kirin 980 — Huawei's home-made chip and first 7-nanometer SoC on an Android smartphone — 6 GB of RAM, and comes with 128 GB of storage.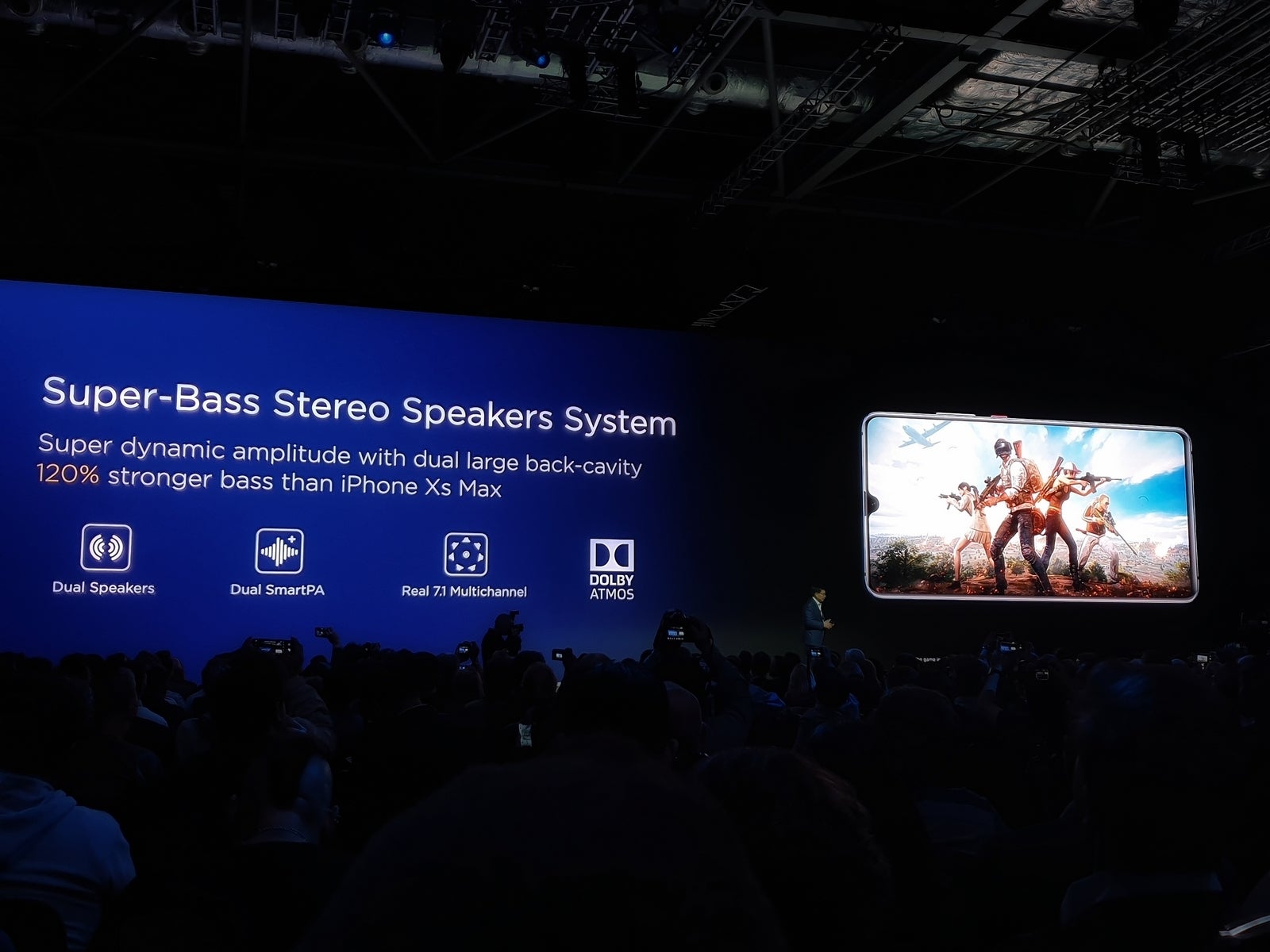 From the limited time we spent with the device, it performs well — quite well — with no observable sluggishness or freezes. A new Huawei Supercool technology, which mixes liquid and graphene for cooling, promises that the phone will not heat up nor throttle while gaming on it for prolonged times, though, we can't say if that's the case just yet.
And — as if the Note comparisons were not enough — there's a new Huawei M-Pen, which will work specifically with the Mate X. Unfortunately, we had no access to that accessory on the showroom floor and it's a separate purchase. However, Huawei claims it has 4096 pressure levels and, from the very limited materials we've seen on it, it may just be a proper contestant for Samsung's S Pen spot of "best smartphone stylus".
Additionally, to hammer the "gamer phone" point even more, Huawei will be releasing a controller for the Mate 20 X. It's a single clamp, which attaches to the left side of the phone and provides a D-pad and analog pad, so that you can control your character in shooters a bit easier, while you still use your right thumb on the screen for aiming.
It's also worth mentioning that the Mate 20 X has a gargantuan, 5,000 mAh battery. Huawei promises 6 and a half hours of constant gameplay or 23 hours of video playback on a single charge, which is quite impressive. Of course, we'd love to put the phone through our own tests and see if the claims hold up.
It's also pretty cool that the Mate 20 X has the very same cameras as the Mate 20 Pro. And these are nothing to smirk at — take a look at all the samples we took when we had some hands-on time with the Huawei Mate 20 Pro:
Expectations
The Huawei Mate 20 X looks like the dream phone for a power user who doesn't mind to "lose out" on a few extra features as long as they get a huge screen, good performance, and a good camera. The Mate 20 X doesn't have the fancy biometric sensors or dual-curved display of the Mate 20 Pro, but it promises to deliver in all other areas without breaking the bank. Well... without breaking the bank as much as its more expensive sibling, at least.
We still want to test its stereo speakers, cameras, and battery life extensively before confirming this claim, but — so far — the Mate 20 X looks like an awesome device for smartphone addicts, be it gaming maniacs, YouTube devotees, social media enthusiasts, or camera buffs. And hey, in 2018, a price tag of €899 ($1,040) almost doesn't seem crazy high.
Recommended Stories