How well does the LG G3 hold up in a drop test?
34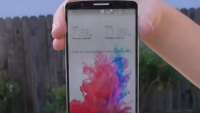 With the
LG G3
set for
its global rollout on Friday
(although it
won't hit the U.S. until July
), it never is too late for the phone to have a drop test. When it comes to Android models, so far this year, we have seen the
HTC One (M8)
perform the best on these tests
. Having an aluminum body that makes up 90% of the phone surely helps.
So how well does LG's new flagship stand up to a drop? The first test was a corner drop from shoulder length, and with the battery cover opening, we figured that the phone might have been a one-drop flop. But as we see from the video, outside of some scuffing on the bottom of the device, the LG G3 held up well on the first test.
Next up was the front-facing drop test, and it is here where the LG G3's screen gives in and cracks. While the device did power on, the shattered display no longer responded to touch.
The moral of the story? Don't drop your LG G3. But because that is easier said than done, your best bet is to use protection. Many don't like to use a case because it covers up the aesthetics of the device. But as this, and most drop tests prove, it is worth paying a little more to protect your investment from getting its glass kicked.
Thanks for the tip, Adrian.
source:
TechRax