Torture chamber: surprising HTC One (M8) drop, scratch and water resistance tests are here
36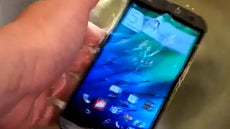 The new HTC One (M8) just got announced yesterday, but there are already drop, scratch, and even water resistance tests made. That's the advantage of having a phone go on sale right after the unveiling, as there's now barely a stone unturned, and all is done in service of the prospective buyer.
We won't spoil the fun that the appetite for destruction brings on the unsuspecting handset in the videos below; we'll just say that the new One (M8) performs remarkably well in those tests, including the waterboarding one. The 90% metal chassis proves durable even in the hammering scenario, and at the same time doesn't seem too rigid, as the smack efforts don't impose any damage on the display that would be unusual for big-screen handsets in drop tests.
The biggest surprise, however, is the water test. The new HTC One (M8) doesn't sport any water-resistance certification, yet it survived dunked in a shallow pool of the liquid for more than an hour without any apparent damage to the internals, including the Duo Camera, which remained fully operational. We doubt that HTC wouldn't advertise if the phone had some sort of waterproofing abilities, so we'd chalk off the achievement to the tight unibody chassis, which makes it harder for anything to get in.