How to use gesture search on Android
7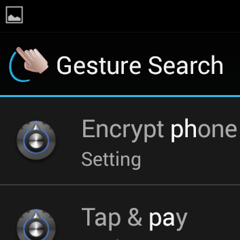 Google provides pretty fast ways to search inside your Android phone or tablet - either by voice, or by typing. But there's another way to search - one that you may have not known about: gesture search. While Android doesn't offer gesture search by default, Google has an official app for this. It's called Google Gesture Search, and
it's been available
since 2010 (first in a beta version).
You can download the Gesture Search app from Google Play (where else?) via the link included at the end of this article. After you install Gesture Search, you'll be prompted to select exactly what content the app can search through - including contacts, apps, music, browser bookmarks, and settings. The app will quickly index your content, and then you're all set: you can begin your gesture search adventure.
Google Gesture Search recognizes both upper case and lower case letters, and supports native characters in more than 40 languages (including Chinese). Once a contact, app or bookmark is found, you can open it directly.
All in all, Google Gesture Search is a cool app, though you may not find it as fast as you'd wish. However, there may be cases when you can't use your voice to search, and neither typing. If that happens, now you know what to do.