How to unlock the Moto E bootloader, root it, and install custom recovery
9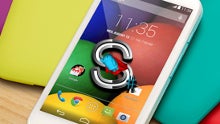 After our
Moto E
review, we are left with the lasting impression that this is one of the best value-for-money offers currently splashing against the waves of Android handsets that are flooding the marketplace, that's why we graced it with a 9/10 score. The phone might feature a "merely" 4.3" display, Snapdragon 200 processor, and a 5 MP camera on the back, but its performance is well-balanced, its battery life is stellar, and above all - it costs just $130 without any subsidies, so what's not to like here.
To top it all off, Moto E comes with the latest stock Android 4.4 KitKat, and its
interface speed trumps even the mighty Galaxy S5
in the daily interaction with the handset. Now, what can make such a fine handset even better? Well, the all-time geek favorites - unlock, root, and install recovery, which will open the floodgates for tweaks, custom ROMs, and general Moto E improvements on all fronts. Here's what you need to do in order to gain full access to your Moto E handset's abilities.
1.
Back up your phone first !
Unlock the bootloader by
going to Motorola's own support page
. Thankfully, the company has provided an easy way to do just that - the Moto E is the first amongst such budget handsets to be graced with an official bootloader unlock method by the manufacturer itself, just follow the instructions there, and you are golden;
adb reboot bootloaderfastboot boot recovery.img
For users who are doing this for the first time:
Download and extract mfastboot-v2 to your computer;
Download TWRP recovery for Moto E, rename the file recovery-twrp.img, and place it in the folder where you extracted the mfastboot-v2 pack;
Download SuperSU, and move it from your computer to the base folder of your Moto E;
With Moto E connected to your computer, press VolumeDown+Power button for a few seconds;
On your computer, go to the folder where you extracted mfastboot-v2 pack, and press Shift+RightClick in an empty space, then choose the "Open a command window here" option;
Run the first command below if you want to just boot into recovery for rooting purposes, and the second if you want to permanently install TWRP:
fastboot boot recovery-twrp.img
fastboot flash recovery recovery-twrp.img
Wait for a minute until the screen is blank, then press the power key and swipe on the display to restore the touch function;
Choose "Install" from the options list, and scroll to the SuperSU file that you placed in your Moto E root folder;
Swipe to start the flashing process, wait till complete, then choose reboot;
Go into the main menu, and if you see the SuperSU icon on the right, then you are rooted!