How to transfer contacts and calendars from an Android phone to an iPhone
36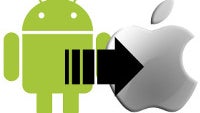 Transferring your info from an old phone to a new one has always been a pain – especially if the two handsets are made by different manufacturers and refuse to "talk" to each other. And if they are on different operating systems? Ugh, the thought causes many to cringe.
However, this shouldn't necessarily be the case. In recent years, manufacturers have cared to provide tools, which help users quickly extract their data from their old handset and put it in the new one. As our tests with
HTC's Transfer
,
Samsung's Smart Switch
, and
Sony's Xperia Transfer
proved – while some of these apps make the process a bit easier than others, we could say that they all manage to do their jobs in a painless manner, be it in an Android-to-Android or iOS-to-android switch.
But what if you wish to try one of these new, large-screened
iPhone 6
or
6 Plus
? We all know that Apple likes to keep their ecosystem a bit more... isolated from others, but would this cause headaches for one who wishes to try their product out? Well, not too much, we found.
The most essential part of your information on an Android phone – your contacts, emails, and calendar events – are transferred extremely easy. So let's start with that: