How to make the Note 4 camera better: lift 4K video restrictions, lessen compression
17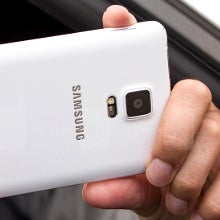 The
Galaxy Note 4
is already outfitted with one of the best mobile cameras you can carry around, as
attested by our own comparison
, but what if you could make it even better. Manufacturers put plenty of restrictions on today's handsets camera abilities, in order to balance thermal throttling, storage space, or both.
Thus, 4K video footage warnings pop up when you fire up this mode, telling you that the phone might become hot, and you might be restricted in the duration of your video recording. Alternatively, makers compress the output JPEG files too much, leaving you with a manageable size, but lesser amount of details in the photo.
Fret not, however, as there is a way to circumvent these restrictions on your brand new Note 4, thanks to an enterprising developer, who hacked the camera app to lift the more annoying restrictions. Here's what you will be getting:
Turned JPEG quality up to 100% from 96% (Verified)
Changed DUAL FHD max record time from 5 minutes to 10 minutes
Changed DUAL HD max record time from 10 minutes to 30 minutes
Changed UHD max record time from 5 minutes to 30 minutes
Changed SMOOTH MOTION max record time from 10 minutes to 30 minutes
Changed SMOOTH MOTION from 28mbit to 40mbit
Changed UHD from 24mbit to 65mbit
Changed FHD from 20mbit to 40mbit
Themed the camera with transparency set at 30% to make buttons less obvious (v4t).
Themed the camera with a greenish tint and all new icons (v4g - thanks to Kevinoliva113)
There are a lot more goods here, such as removing the 5 minute mark that would appear while doing 4K footage, plus the mod will work on both the Exynos, and the Snapdragon version of the Note 4. What needs to be done is, unfortunately, not simply downloading an app and installing it, and the phone needs to be rooted, of course, but you already knew that. Here's what needs to be done to install the mod:
1. If you have custom recovery installed, and if you've already rooted, we can't imagine why wouldn't you, simply
flash the Note 4 camera mod zip
, and that's that;
2. If you want to take the high road, use ES File Explorer, or any other app that will give you root system files access, go to /system/app and delete the old SamsungCamera3.apk and SamsungCamera3.odex files, or stash them away in case something goes wrong;
3. Grab the respective Exynos or Snapdragon versions of the SamsungCamera3.apk that is in the zip file you downloaded in step 1, and copy it to the /system/app folder, then copy the media_profiles.xml file that is in the same zip package to the /system/etc/ folder. Don't forget to set rw-r-r permissions on both newly-copied files;
4. All you need to do now is reboot the Note 4, and marvel at your newly-found camera freedom with your powerful handset.