How to get the Galaxy S6 Edge colorful side glow notifications on any Android phone
11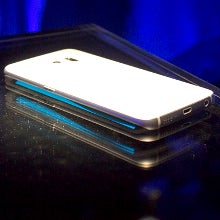 The
Galaxy S6 edge
comes with a flexible AMOLED display that has a plastic, instead of glass substrate, and bends over both the left and right edges of the new flagship. Besides the cool factor, these can glow in different colors depending on who the caller is, for instance. You can assign your boss's incoming calls to glow in red, and your friend's in green, and so on. Thus, even if the S6
edge
is lying flat and face down on the desk, you can immediately see who is calling.
As awesome as this may sound, it is a feature exclusive for the Galaxy S6 edge, and only if you shell out the Benjamin or so more, you will be entitled to use it, right?
2. Open the app, and you will see two variables - width and color;
3. Set the desired width of the two strips that will appear on both sides of your phone's display when someone calls, and their color (default is red);
4. Save the changes and call your phone - have fun! The developer promises that the next versions will include color-coding for notifications, too, so stay tuned.