How to download and install the Android L beta update on your Nexus 5
31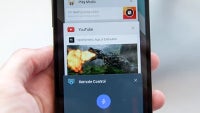 Google outed the
Android L
developer preview images just as promised, so that devs can start hacking away at the SDK package, tinker and tweak until their apps are prepped for the new Material Design paradigm, or take advantage of the upgraded notifications system in Android L, for instance. With the new Android edition we got a thoroughly revamped interface with the fashionable "flat", but colorful demeanor that many Android manufacturers have opted for already.
In addition, Google finally overhauled the aging notifications and multitasking menu systems, boosting them with a Google Now-style cards, plus there are plenty of other visual changes to go around, marked by the new
Material Design
language that Google plans to use across devices - from smartwatches, through phones and tablets, to cars and TVs. The most delectable visual changes are the redrawn navigational buttons, PlayStation-style, and the color-coded interface sections, but we will also get new default apps, new battery management system, and true 64-bit compiler, named ART.
As usual, the Google Nexus devices, like
Nexus 5
and
Nexus 7
, are getting first dibs at the new Android version, but since the update is still not ready for prime time yet, it's not available as a finished OTA download, so the process of installing it is a bit more convoluted. Here's what you need to do, in order to install Android L on your Nexus 5:
2.
Boot into recovery
, and unmount system, then choose the option to wipe the system, data, Dalvik, and cache - you will definitely need a completely clean install, if you are going from Android 4.x, to the new Android L, as we are getting a brand new 64-bit compiler, and tons of changes under the hood that have nothing to do with all versions so far;
5. Reboot your Nexus 5, and you are done. Be patient, as the first loading of Android L will take a while, but afterwards you can tinker and play around with it to your heart's desire.