How many apps do Americans keep on their phones on average? Not that many, really
24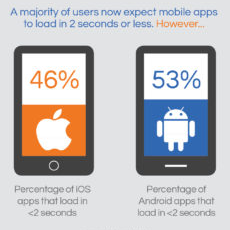 Ever wondered how many apps people in America keep on their smartphones nowdays? In search of the truth, Neumob went and asked 1000 Americans this same question. Here are the results – people aged 18 - 64 generally have somewhere between 6 to 15 downloaded apps in rotation. More specifically, these are apps that they downloaded personally and didn't delete. The survey doesn't cover applications that came pre-loaded on smartphones, or were downloaded and eventually deleted due to poor performance.
Neumob discovered that the chief reason behind deleting an app is slowness. If an app is slow and cumbersome to respond, it gets thrown out immediately. The standards for this are surprisingly high. A separate study done by Aptelligent claimed that the majority of users expect apps to load in maximum 2 seconds or less! No wonder ambitious mobile developers are doing the impossible to keep their products quick and lean. If the app isn't ready to go immediately post-install, it stands no chance at competing.
Most people tend to delete apps when said apps are slow
With tens of different apps being launched every day, and app stores' catalogs numbering 2 to nearly 3 million, it must be more than a little depressing for app developers that most people (in the study) make do with a tight package of essential apps and simply don't care for the vast amount of choices they have. Making it into this compact list of no more than 15 must-haves is a difficult, if not impossible task in a market that's completely saturated and dominated by large companies or household names.
Another interesting takeaway is that iPhones still dominate young people's minds, while folks over 25 go for Androids. Is buying your first Android phone a coming-of-age ritual now? Has rocking a Samsung become a sign of maturity? Deep questions that shall remain for another time. The complete survey data is available in the well-put infographic below, courtesy of Neumob.
However, let's mind the fact that 1000 people is by no means a large sample size. Do not take the data as absolute fact, but as more of a tendency-illuminating insight than a wholly representative study of American smartphone users.
ALSO READ
source:
Neumob