Honor 8 hands-on
9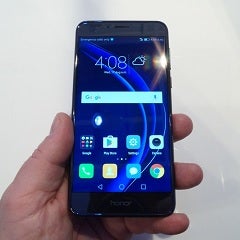 If there is anything to be learned from the recent smartphone hardware coming out of China, it is that premium build quality and top-shelf specifications do not need to cost an arm and a leg. Indeed, a new price point and feature-set has emerged with the likes of the Alcatel Idol 4S, the OnePlus 3 and the ZTE Axon 7, and if this keeps up, the cost curve for the market as a whole is only going to feel continued downward pressure.
Honor, the up-and-coming "e-brand" of Huawei, made a splash with the introduction of its flagship for the US market, the Honor 8, a smartphone that brings together style, performance, and price in a package aimed squarely at the emerging "millennial" consumers.
Design
The
Honor 8
has a very unassuming appearance, and that is what makes it endearing. An aluminum chassis sandwiched by two panels of glass, rounded at all edges, the Honor 8 feels like a smooth monolith in the hands.
Aside from the subtle indentation for the rear-mounted fingerprint scanner, and the slight protrusions of the volume rocker and power/lock button, nothing physically sticks out on this device, not even a camera bump.
The back panel in particular is something to behold. Honor built 15 layers of glass together, with various optical and print coatings to create a nice looking "aurora effect" when light shines off the back of the phone.
Display
The 1080x1920 full HD display is up to the task at 5.2-inches. The touch response was fluid and there were no signs of hesitation when commands were imputed. Honor claims a high level of color accuracy with the panel.
Interface
Huawei's EMUI 4.1 is on board. It is a heavy overlay on top of Android 6.0 Marshmallow, but thanks to the competent hardware it does not give up any signs of a struggle. EMUI is a single-layer interface, there is no app drawer, a-la iOS. That in itself is not so uncommon, but the level of customization available to the user is something that is just not seen on other mainstream flagships. In other words, you have a lot of options.
That said, the interface does not interfere at every turn either, you are not bombarded with windows seeking a verification, or any quick "by the way did you know you could do this" type distractions outside of the Android OS app-permissions that may be requested.
One distinction of the interface is the multi-functional fingerprint sensor. In addition to reading your fingerprint really quickly, it is also a button that can be programed to do any number of things off of three different actions: single-click, double-click, or click-and-hold. From launching the camera to answering a phone call, or taking a screen shot, the dual-purpose scanner is fully customizable.
Processor and Memory
Under the hood, the Honor 8 is powered by Huawei's in-house octa-core Kirin 950 CPU, and 4GB of RAM. There are two storage options, 32GB or 64GB. In either configuration, there is a microSD card slot, accommodating up to 128GB of extra storage.
Cameras
This is one of the Honor 8's starring features. On the front, there is an 8-megapixel camera with delayed shooting, panoramic, and selfie support. It is on the back where the Honor 8 makes news with its cameras. This new flagship has two main cameras on the back of the device. One is color, the other is monochromatic. Both are 12MP Sony sensors, and in addition to working together to assist with focusing, they also focus from measuring contrast, all while getting a hand from the laser-assist auto-focus too. There are a number of settings on-hand to be as creative as you want to be with the camera, from full-auto, to full-manual.
Expectations, pricing, and availability
Honor made it pretty clear they want the Honor 8 to be a hit with younger consumers, but there is enough here to appeal to anyone. The camera set-up is intriguing, not because there are two cameras, but because there are two cameras that do not make promises of "3D photography" or something like that. Rather, the aim is good pictures all the time.
The user experience is something different from everything else on the market. It neither begs or begrudges input. You can make it what you want it to be. Finally, the build quality is as good as anything else we have held in our hands, including flagships that cost twice as much (or more).
The Honor 8 is available to pre-order on August 17th and will be sold through retailers Amazon, Best Buy, B&H Photo, Newegg, and directly from Honor. Best Buy has an initial exclusive on the sapphire blue color, but midnight black and pearl white are also options.
Just how much will the Honor 8 cost? The 32GB model is $399.99. The 64GB model is $449.99. We have a complete segment of premium, and capable smartphones at $400. With the advent of the Honor 8, it is getting increasingly difficult to justify spending much more for a top-shelf device.