Hesse: 2014 will be Sprint's year
46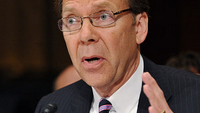 If 2013 is the year of T-Mobile, with the nation's fourth largest carrier leading the way with various innovations, 2014 will be Sprint's turn to make some noise. That prediction was made by none other than Sprint CEO Dan Hesse. The executive was talking in front of an investor conference in New York City on Tuesday and explained that while Sprint and its customers are taking it on the chin short-term, replacing network infrastructure will improve the operator in the long term.
Hesse used the story about the three little pigs as an analogy to describe why Sprint is replacing its network and rebuilding. He says that Sprint is building a house of bricks while the other three rivals are building houses of straw and sticks. Still, the CEO says that Sprint is losing customers and will continue to do so while it builds out its network.
The good news is that Hesse expects Sprint to have more customers than ever once the build out is complete. And he displayed a
Samsung Galaxy S4
built to support Sprint's tri-band LTE service called Sprint Spark. As we told you on Tuesday,
the service has gone live in Chicago
and while a limited number of handsets support it, Sprint Spark offers faster data speeds and better service indoors.
"We will see churn get worse as we build Network Vision. And then it starts to improve and will improve to a level that is much better than where we started when it's over. So we have to go through the short term pain to reach the long term gain."
-Dan Hesse, CEO,Sprint
source:
CNET