Heroes of Order & Chaos is now available for iOS and Android, free to play
5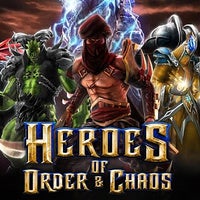 Looking for a new game to try? How about something you can play online with gamers from all over the world? Gameolft's Heroes of Order & Chaos fits that description well. It belongs to the multiplayer online battle arena genre, which is a fancy name for a blend between a PvP role-playing game and real-time strategy. You know, just like Defense of the Ancients that you might have played on your computer.
Heroes of Order & Chaos is free to play and offers a selection of 30 unique heroes, each with their own special abilities and fighting style. You can enjoy singleplayer battles, or if you find yourself trained enough, dive into a multiplayer online battle on a 3v3 or a 5v5 map. The game is available for both Android and iOS devices.
So if Heroes of Order & Chaos seems like a game you'd enjoy, just get it and give it a try. At over 600MB, however, it is a hefty game, so make sure you have enough storage space before downloading.