Here's why Project Glass could be a gamechanger for photography (sample images, video)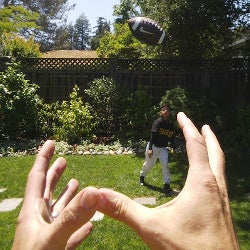 Project Glass - it started with a futuristic video that teased a deeply augmented reality, but it might end up to be conceived more as the most innovative mobile camera yet. It could really be a gamechanger for photography, and we'll let the pictures and video below do most of the explaining why.
"This is not so much about being able to take a picture that looks like this, which you can all do. It's about how effortless and natural it is to do so,"
Tech Lead for Project Glass Max Braun summarized recently the whole idea on a Google+ hangout.
But it's not just about taking the pictures. The Glass is a connected device, which means that you can also instantly share those pictures to your pre-set social circles on Google+. We've Larry Page show this recently, so that looks like one feature that will certainly be in the final unit.
Despite all the sample images below being taken on a prototype, the first pictures that Google shares with us are impressive. We can't give our final estimate yet, but you can't help but notice that noise is kept at a good minimum even in low-lit conditions, there's enough detail and no overblown colors to keep us very hopeful about this.
We're currently struggling to embed the video from Google+, but if you head to the source you can see it in full 720p quality and it doesn't look bad at all.
How do you like what you see so far?